October 21, 2019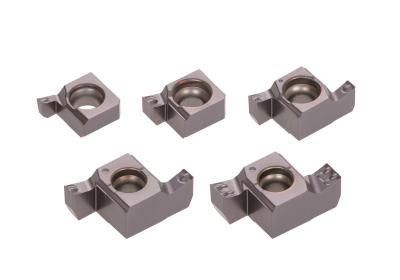 Tungaloy is expanding its SNG line of internal grooving tools to include GMR, a new insert geometry that enables effective chip control and evacuation in internal grooving applications.
Chip evacuation is a major issue with internal grooving. The GMR geometry addresses this by offering a 3D chipbreaker pressed in the cutting edge and optimized rake angle that removes the chip out of the hole and reduces cutting force. This minimizes the risk of chip re-cuts which can cause tool breakage, especially when machining small diameters. This provides improved cycle time and productivity.
Various toolholder sizes are available for internal grooving with a minimum bore diameter (DMIN) of 8 mm (0.31") up to 24 mm (0.95"). Carbide shank toolholders are also available for shank diameters of 16 mm (0.63") and smaller for added tool rigidity during long-reach applications where vibration control is vital.
At a Glance
Superior chip control and evacuation
GMR geometry ensures process security in a wide range of parameters
Available in AH7025 covering various materials, including carbon and alloy steels, stainless steel, and heat-resistant alloys
Total of five inserts to be added
Additional Products from Tungaloy America Inc.