October 01, 2020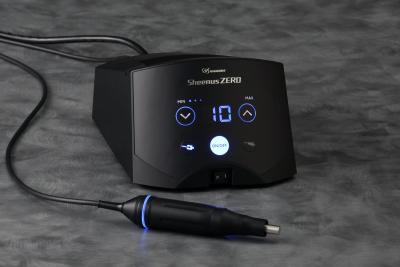 NSK America Corporation has upgraded its Ultrasonic Polisher with the advanced-performance Sheenus ZERO. Enhanced features of the Sheenus ZERO Ultrasonic Polisher include an improved user-friendly design and high efficiency power.
The Sheenus ZERO quickly removes hard layers of EDM deposits and polishes difficult areas such as complex corners and ribs. It can be used for deburring, grinding and polishing on ferrous and non-ferrous materials.
For operator control and comfort, the Sheenus ZERO provides variable amplitude between 19 - 29 kHz per second and produces minimal hand vibration. Conveniently portable and easy to maneuver, the Sheenus ZERO controller weighs just 3 lb 5 oz, or 29% less than NSK's previous ultrasonic polisher. The resin body handpiece, lightweight and ergonomically designed, enables effortless, precision work over long periods of time. To allow continuous, uninterrupted use, the Sheenus ZERO features a heat protection function that detects abnormally high heat and automatically suppresses output to prevent temperatures from rising.
For improved visibility, the Sheenus ZERO controller includes a digital LED display that clearly indicates operation function and has an illuminated handpiece. Additional features of the controller include maximum output power of 45 W, LED display switchable between amplitude and WATT as well as a built-in cradle for the handpiece.
Related Glossary Terms
electrical-discharge machining ( EDM)


electrical-discharge machining ( EDM)

Process that vaporizes conductive materials by controlled application of pulsed electrical current that flows between a workpiece and electrode (tool) in a dielectric fluid. Permits machining shapes to tight accuracies without the internal stresses conventional machining often generates. Useful in diemaking.

grinding


grinding

Machining operation in which material is removed from the workpiece by a powered abrasive wheel, stone, belt, paste, sheet, compound, slurry, etc. Takes various forms: surface grinding (creates flat and/or squared surfaces); cylindrical grinding (for external cylindrical and tapered shapes, fillets, undercuts, etc.); centerless grinding; chamfering; thread and form grinding; tool and cutter grinding; offhand grinding; lapping and polishing (grinding with extremely fine grits to create ultrasmooth surfaces); honing; and disc grinding.

polishing


polishing

Abrasive process that improves surface finish and blends contours. Abrasive particles attached to a flexible backing abrade the workpiece.
Additional Products from NSK America Corp.