October 01, 2022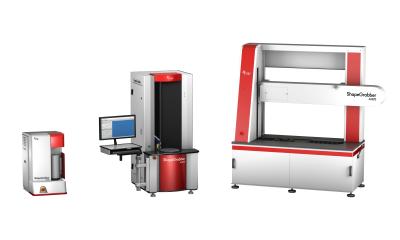 Optical Gaging Products (OGP®), a world-leading manufacturer of optical and precision multisensor metrology systems for industrial quality control, announces the addition of the ShapeGrabber Ai320 and the ShapeGrabber Ai820 to its family of automated 3D laser scanning systems.
ShapeGrabber 3D Laser Scanning systems are metrology-class machines that combine powerful laser and camera technology to capture up to 1.5 million data points per second. At the heart of each ShapeGrabber system is a high-resolution scanhead offering dynamic range that delivers fast and accurate measurement of parts in a wide variety of materials, colors, textures, and finishes.
"ShapeGrabber systems are ideal for measuring complex shapes such as molded plastics, castings, stampings, and machined parts that are time-consuming, costly, and difficult to measure," reports David O'Connor, Director of Sales and Marketing, ShapeGrabber. "Durability on the shop floor and ROI advantages based on faster throughput and operator ease-of-use make ShapeGrabber turn-key solutions in manufacturing, quality control, rapid prototyping, and reverse engineering applications."
ShapeGrabber systems are available in three models to match part size and configuration. The new ShapeGrabber Ai320 is a vertical axis benchtop system that features the SG108 scanhead perfect for smaller parts. ShapeGrabber Ai620, featuring the SG198 scanhead, is a vertical axis floor model ideal for measuring a wider variety of parts. The new ShapeGrabber Ai820 with the SG408 scanhead is a large capacity floor model with a standard vertical axis. ShapeGrabber Ai820 is also offered with a horizontal axis, perfect for larger more intricate parts.
Related Glossary Terms
metrology


metrology

Science of measurement; the principles on which precision machining, quality control and inspection are based. See precision machining, measurement.

quality assurance ( quality control)


quality assurance ( quality control)

Terms denoting a formal program for monitoring product quality. The denotations are the same, but QC typically connotes a more traditional postmachining inspection system, while QA implies a more comprehensive approach, with emphasis on "total quality," broad quality principles, statistical process control and other statistical methods.