January 12, 2012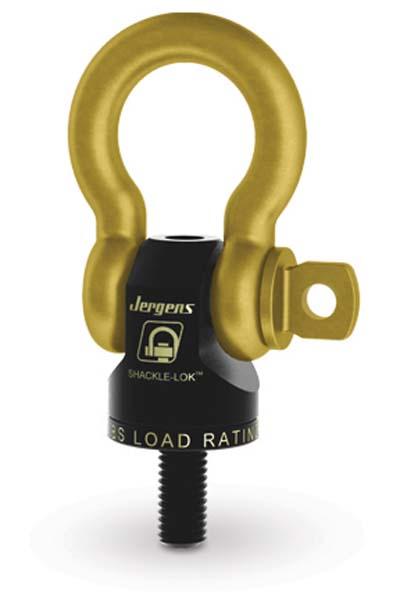 Jergens Inc. announces the addition of Shackle-Lok, a shackle-style hoist ring. The Shackle-Lok combines the strength and safety of a hoist ring with the versatility of a shackle.
Available in a wide variety of inch and metric sizes, the Shackle-Lok has internal ball bearings within a tamper-resistant design that provides smooth 180-degree pivot and 360-degree swivel action under load. Shackle-Lok is for lifting situations where conventional swivel or stationary hardware may be impractical to use. With a unique, 3-piece design, Shackle-Lok is ideal for use in low- clearance OEM applications, general rigging applications, and permanent mounting on dies, molds, fixtures, and other heavy equipment.
Easy-to-remove anchor shackles are interchangeable, and the bolt can accommodate a wide variety of alternate styles. Magnetic particle inspected Shackle-Lok is CE-certified and conforms to ASME B30.26 and RR-C-271F standards. Designed to work with numerous thread sizes, Jergens can manufacture any straight thread size, pitch, or length to meet specific lifting application requirements.
Shackle-Lok Shackle-Style Hoist Rings can be equipped with Lift ID, Jergens' exclusive automated inspection and compliance system.
Related Glossary Terms
clearance


clearance

Space provided behind a tool's land or relief to prevent rubbing and subsequent premature deterioration of the tool. See land; relief.

inner diameter ( ID)


inner diameter ( ID)

Dimension that defines the inside diameter of a cavity or hole. See OD, outer diameter.

pitch


pitch

1. On a saw blade, the number of teeth per inch. 2. In threading, the number of threads per inch.