February 01,2015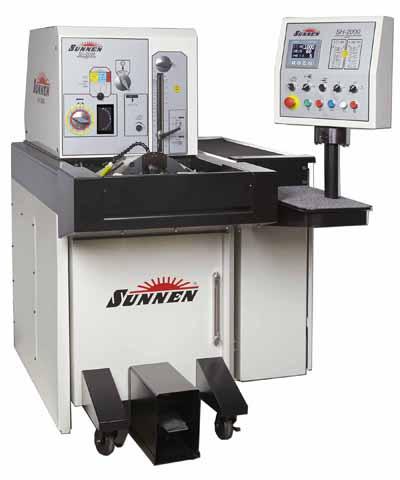 Sunnen introduces digital control of spindle speed, power-stroke speed and extra strokes on its new SH-2000 job-shop honing machine, designed as an affordable and flexible tool for bore sizing/finishing on a wide variety of parts. The new Siemens PLC/HMI brings efficiency advantages to a machine platform proven to have wide appeal in operations where parts, material types, and setups must change frequently and efficiently. The SH-2000 is ideal for medium to high production of parts with bore diameters from 1.5 to 102mm (0.060" — 4") in power-stroke mode. It is capable of processing an exceptional variety of part sizes, configurations and weights with its standard universal honing fixture or optional application-specific fixtures.
The 2.25-kW (3 hp) spindle drive delivers 200 to 3,000 rpm, adjustable in fine increments. The 0.75-kW (1 hp) stroker drive produces stroke rates of 60 to 350 SPM, with stroke lengths of 6.8 to 170mm (0.236" to 6.7"). Power stroking ensures constant stroke length and stroke rate, and the machine's standard zero-shutoff and optional automatic size control (ASC) allow high production rates with precise control of bore size, finish and geometry.
The new PLC control enables capabilities such as in-cycle speed changes, "slow extra strokes," ASC before cycle start, ignore ASC (automatic size control) alignment error, ignore oversize workpiece and stroke count honing. Machine diagnostics are available via the control. The new digital honing indicator switches from inch to metric with a touch of its screen.
The SH-2000 easily handles parts with multiple-land and tandem bores, keyways, splines, blind ends and thin walls. It can use all the same tooling and fixturing as predecessor EC and ML machines.
Options for the SH-2000 include automatic size control (ASC), which uses a sensing probe slightly smaller than the bore to be honed. When the sensing probe is able to slip into the bore, it automatically stops the honing cycle. ASC compensation allows fine tuning of size by adding extra strokes after the probe enters the bore, providing more effective targeting of the nominal diameter in high-Cpk production environments. Other options include custom workholding fixtures, gimbal fixtures, long support bars and a spindle adapter to allow use of high-productionmmT tooling. The standard 30-gallon settlement tank for coolant can also be upgraded to a 32-gallon filtered system.
Related Glossary Terms
coolant


coolant

Fluid that reduces temperature buildup at the tool/workpiece interface during machining. Normally takes the form of a liquid such as soluble or chemical mixtures (semisynthetic, synthetic) but can be pressurized air or other gas. Because of water's ability to absorb great quantities of heat, it is widely used as a coolant and vehicle for various cutting compounds, with the water-to-compound ratio varying with the machining task. See cutting fluid; semisynthetic cutting fluid; soluble-oil cutting fluid; synthetic cutting fluid.

fixture


fixture

Device, often made in-house, that holds a specific workpiece. See jig; modular fixturing.

spindle adapter


spindle adapter

Bushing or toolholder that permits affixing a variety of taper- and straight-shank tools to a machine spindle.