July 12, 2012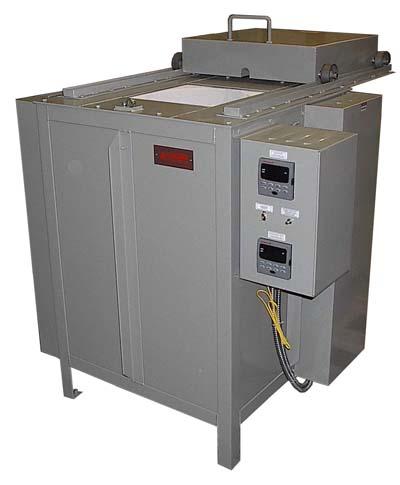 Lucifer Furnaces recently supplied several top loading pot furnaces to a customer for use with glass and ceramic research. Series 2055 Pot Furnaces, available in 10 standard sizes, are used for salt bath heat treatment, providing high quality surface protection, minimizing scale, oxidation and decarburization.
Pot furnaces are constructed with multilayered insulating firebrick and mineral wool insulation for maximum heat storage and low outside skin temperature. Units include a stainless steel pot designed with a flange for sealing against the roof plate which is constructed of heavy gauge steel plate to withstand warping and distortion from chamber heat. Large models are constructed with a roller mounted lid to reduce bath surface heat loss during idle periods; the lid track extends beyond the back of the furnace for unobstructed access into the chamber. Heavy gauge, coil wound, low watt density heating elements in easily removable radiant panels located on all four side walls of the heating chamber are divided into several zones to provide uniform heat to 1500°F.
Separate thermocouples monitor both chamber and pot medium temperatures. Side mounted power regulating equipment includes a magnetic contactor, 230 or 460 volt-to-110 volt control transformer as well as terminal blocks, instrument fuses and power connection terminals. Temperature controls include a Honeywell ¼ DIN microprocessor based digital time proportioning temperature controller mounted in a separate NEMA 1 enclosure. An over-temperature safety system option prevents thermal runaway. These furnaces are completely wired, assembled and shipped ready for connection to a main power supply.
Related Glossary Terms
decarburization


decarburization

Loss of carbon from the surface layer of a carbon-containing alloy due to reaction with one or more chemical substances in a medium that contacts the surface. Frequently occurs in steel exposed to air at high temperatures, resulting in loss of hardness and strength at the surface.