July 13,2021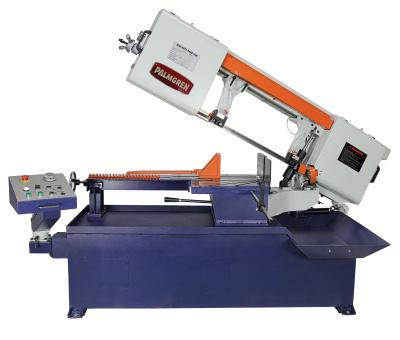 For easy fast cutting performance, the right choice is Palmgren's 13 x 20-inch Semi-Automatic Horizontal Band Saw. The high-performance saw is ideal for multiple jobs with low volume production requirements plus it offers the best cost per cut solution. The massive saw head design features extra-large cast iron wheels that deliver precise, extremely accurate straight and miter cuts. In addition, the saw head is raised hydraulically after the end of each cut.
The #9683316 13 x 20-inch Semi-Automatic Horizontal Band Saw from Palmgren has a swing away control panel that relocates the saw controls to a single location for optimum operator convenience and safety.
Related Glossary Terms
bandsaw blade ( band)


bandsaw blade ( band)

Endless band, normally with serrated teeth, that serves as the cutting tool for cutoff or contour band machines.

sawing machine ( saw)


sawing machine ( saw)

Machine designed to use a serrated-tooth blade to cut metal or other material. Comes in a wide variety of styles but takes one of four basic forms: hacksaw (a simple, rugged machine that uses a reciprocating motion to part metal or other material); cold or circular saw (powers a circular blade that cuts structural materials); bandsaw (runs an endless band; the two basic types are cutoff and contour band machines, which cut intricate contours and shapes); and abrasive cutoff saw (similar in appearance to the cold saw, but uses an abrasive disc that rotates at high speeds rather than a blade with serrated teeth).