July 01,2015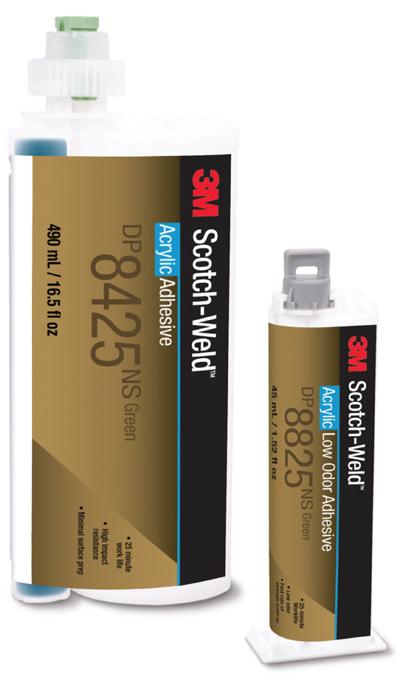 Manufacturing and design engineers thrive on producing new and innovative products, and rely on an efficient process to get them there. Now, there are structural adhesives available to take that process to the next level. 3M Scotch-Weld Acrylic Adhesive DP8425NS and 3M Scotch-Weld low-odor Acrylic Adhesive DP8825NS offer a fast cure time and expand process work time up to 25 minutes. The unique kinetics of the reaction accelerates the cure, reaching handling strength in 45 minutes and structural strength (1000PSI) in 50 minutes, which means less clamp time. 3M Scotch-Weld Acrylic Adhesives encourage manufacturing and design professionals to improve their processes and create projects that would otherwise be difficult to do with mechanical fasteners.
3M Scotch-Weld Acrylic Adhesives allow manufacturing engineers to greatly improve the efficiency of the assembly process. Industry professionals can now make larger assemblies that were once thought of as impossible because they won't have to worry about switching out mixing nozzles or deal with the difficult cleanup of a cured adhesive. Instead, they can concentrate on what they do best: produce one-of-a-kind projects.
"At 3M, we develop products that allow manufacturing engineers and design professionals to construct in ways that were never before possible," said Mark DeLaForest, 3M Marketing Manager — Structural Adhesives. "With the expanded process time and improved performance of 3M Next Generation Acrylic Adhesives, we want to encourage those in the industry to produce beyond the limits of prior constraints."
In addition to the extended process work time and fast cure time, 3M Scotch-Weld Acrylic Adhesives offer an 18-month shelf life and a higher impact of resistance compared to conventional acrylic adhesives. Additionally, in order to improve workers' environment and health, 3M Scotch-Weld Acrylic Adhesives are available in a low-odor and non-flammable formula.