February 01,2014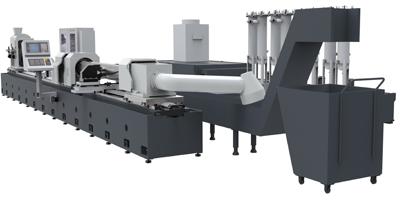 The SBN300/1-600 skiving and roller burnishing machine from Precihole Machine Tools Pvt. Ltd. is capable of achieving hydraulic tube ID's ranging from 35mm (1.37") to 400mm (16") and lengths up to 40-ft. using plain carbon steel, ST-52, ST-55 or aluminum for tube construction. By combining skiving and roller burnishing into a single operation using a combination tool, the manufacturing process is typically 40 to 50 times faster than honing, resulting in a tube ID that is not only more work-hardened than the parent material but also features an extremely high surface finish. Additionally, feed rates of up to 2500mm/min (100 IPM) are possible during processing. Bore tolerances of IT7-IT8 and a surface finish as fine as 4 to 6 Ra micro-inches are possible. Multiple self-centering vices are provided for support for longer tube applications.
TheSBN300/1-600 skiving and roller burnishing system uses a tool that is rotated and fed with a high-capacity AC spindle motor mounted on a rack and pinion arrangement for long tubes measuring more than 2m (6-ft.) in length while a ball screw and nut mechanism is used for shorter tubes. Dual-pressure hydraulic clamping settings are programmable for the self-centering vices that hold the component in place during manufacturing, ensuring uninterrupted smooth finish and uniform size control throughout the tube. Vibration dampeners help support the tube and remove any vibrations while the tool finishes the ID at high feed rates. The machine comes with a recirculating high-pressure coolant system and a chip shredder to cut long chips prior to transport. A CNC controller and tool monitoring system that helps protect the tool are also standard.
Skiving is a metal-removal process that rapidly removes a layer of material from the internal surface of a tube, preparing it for the burnishing process. The skiving tool is a modified floating reamer with carbide inserts for cutting. The roller burnishing finishing process cold works the surface by pressing multiple rollers against the surface to flatten the "peaks and valleys" created by skiving, resulting in an exceptional mirror-like surface finish preferred by manufacturers of off-road equipment, mining equipment, and material handling machines among other applications. Precihole skiving and burnishing machines are available exclusively in North America from Absolute Machine Tools Inc.