February 24, 2022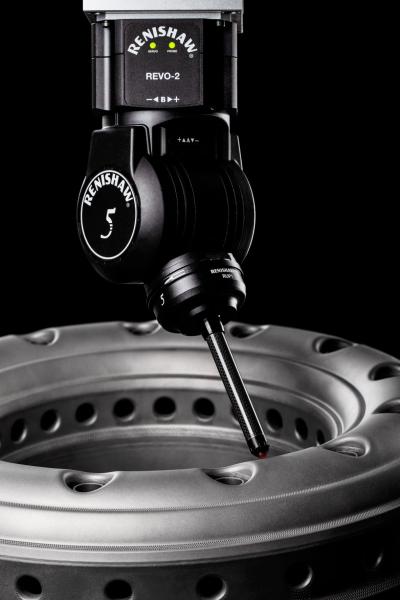 The new RUP1 ultrasonic thickness measurement probe increases the multi-sensor capability of Renishaw's REVO 5-axis system, which now offers six different probe sensor families, each specifically designed to maximise the advantages of 5-axis motion and infinite positioning.
All REVO system probes can be changed automatically and include tactile scanning, touch-trigger, surface finish, ultrasonic, non-contact structured light and vision probes. They are used within a common co-ordinate reference frame, providing the choice of an optimum tool to measure multiple features, all on a single CMM platform.
Dave Joynson, Renishaw's Product Manager for the RUP1 probe, describes the benefits of using an ultrasonic probe on a REVO system:
"Unlike many other ultrasonic systems, the RUP1 ultrasonic probe does not require the use of water tanks or coupling gel to enable a good transmission of the signal. Instead, it uses an innovative elastomer tip ball to provide excellent coupling between the probe and the material. As a result, the RUP1 probe removes the need for skilled operators to interpret oscilloscope screens, and it releases shop floor real estate as immersion tanks and deep bore CMMs are not required."
The use of ultrasonics for single-sided measurement of part thickness delivers clear advantages over traditional tactile probing techniques for parts where access to internal features is challenging. For example, aircraft landing gear parts, aerospace and power generation drive shafts, and hollow aerospace blades are all parts where the RUP1 probe will be of significant benefit.
Only when used as part of a 5-axis controlled system with the infinite positioning capability of the REVO head does the automated use of an ultrasonic probe on a CMM become feasible. The RUP1 ultrasonic probe is fully integrated into MODUS™ metrology software (version 1.12) and UCCsuite (version 5.8). It includes features such as geometry and material calibration, tip ball size monitoring and compensation, automatic calculation of REVO head positions based on the back-wall angle for non-parallel surfaces, and tip life monitoring. A standalone signal viewer is also available which provides experts with a graphical view of the measurements.
The RUP1 probe uses a 20 MHz transducer and provides a thickness measurement range of 1 mm to 20 mm with an accuracy of better than 10 microns using touch points. The tip ball is user-replaceable and is preserved by a protective cap that can be automatically removed and maximises tip ball life. The RUP1 probe is fully compatible with the MRS2 change rack using the RCP TC-3 rack change port and is interchangeable with all other probe options available for the REVO system.
Related Glossary Terms
calibration


calibration

Checking measuring instruments and devices against a master set to ensure that, over time, they have remained dimensionally stable and nominally accurate.

metrology


metrology

Science of measurement; the principles on which precision machining, quality control and inspection are based. See precision machining, measurement.