March 12, 2012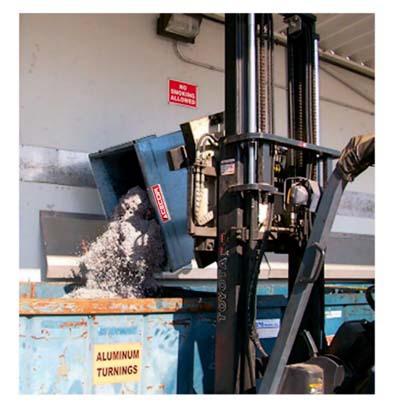 CECOR announces a recent addition to their heavy duty cart line. The "Rotator Cart" has pockets built into the base to engage the forks of a rotator attachment on a lift truck. Cart is picked up and transported by fork truck and emptied by rotating the forks on the lift truck attachment. No need for fork driver to stop and get off to adjust for dumping.
Moving scrap out of production areas encourages a safer and cleaner work environment. Eliminate chips and scrap around the machine tool. Avoid bending to reach discharge or sliding and dragging heavy boxes or totes across the shop floor.
Capacity and configurations are specifically matched for the loading requirements of machine tools. Seven basic configurations and their variations allow close placement to machine tool, shears, saws and workstations. A small footprint and best use of the cube conserves precious floor space.
CECOR Carts are made of heavy gauge steel with fully welded, leak-proof seams. Carts are designed to stand up to rough treatment. Heavy duty industrial wheels and casters stand up to the most rugged loading and still roll easily across the floor.