April 13, 2013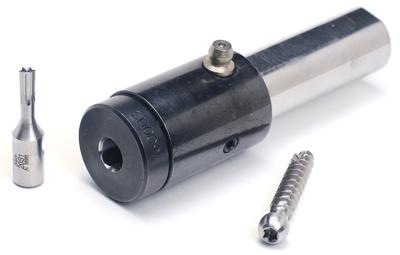 Slater Tools' highly-engineered internal adjustment-free tool holders allow trapped air and hydraulic pressure to escape during "full-form" applications. For example, on an internal hexagon the company recommends pre-drilling a hole that is larger than the across-the-flats dimension of the hex. This means that only the corners of the hexagon would be cut during the broaching operation, which greatly reduces the amount of force needed and increases tool life. In this scenario there is no concern about trapped fluids or air.
However, there is an increased need, particularly in medical and aerospace manufacturing, to remove material full-form, that is, not having a pre-drilled hole larger than the across-the-flats dimension, thus the entire shape is being broached as opposed to just the corners. This can create pressure issues as coolant or air can get trapped inside of the pilot hole. In that scenario, Slater recommends using a broach that is vented (has a hole going through the length of the broach). With vented broaches, the company's enhanced tool holder design allows coolant and air to escape more rapidly.
In either case, Slater's adjustment-free tool holders increase productivity and reduce set-up time through a design that requires no need to center the tool holder. Simply set the rotary broach holder into your machine and you are ready to hit cycle start. For use in both CNC mills and lathes, these compact tool holders require no center indicating. Available in numerous Swiss-type and standard holder styles and sizes, they are ideal for small part and micro manufacturing, medical and aerospace applications, and for producing small forms on CNC lathes or mills.
"The unique design features a sleek cylindrical body to eliminate interference in tight set ups. The adjustment free series is made specifically for Swiss type and other precision machines. This design takes the guesswork out of centering the holder prior to rotary broaching," says Jeff Tryles, Sales Manager for Slater Tools.
Used in combination with Slater's internal rotary broaches, standard or custom-made to exact specifications, end users are able to machine virtually any hex, square, spline, serration, torx-type or other custom shapes in a variety of materials.