August 10, 2016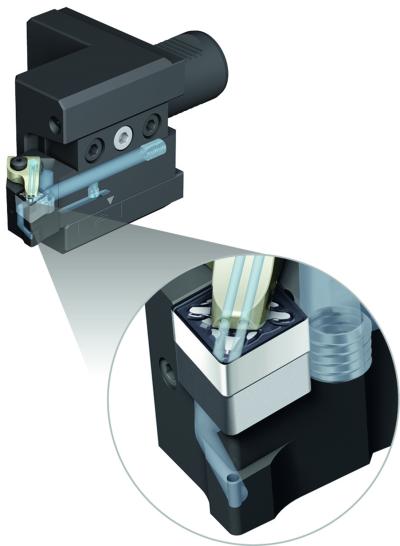 The RM5 stainless steel roughing geometry from Walter USA LLC features guided twin-channel coolant targeted at the chip. This provides maximum cooling and enhanced tool life for machining ISO M stainless steels and ISO S high-temperature alloys, according to the company.
The Walter Precision coolant turning system and the RM5 indexable insert geometry are designed to work in concert to ensure ideal cooling. The new RM5 jet guiding geometry directs the coolant beneath the chip and thereby even closer to the cutting edge.
For added cutting efficiency, the Walter RM5 uses Tiger·tec Silver PVD Al2O3 cutting tool inserts in grades WSM10S, WSM20S, WSM30S, and Tiger·tec Silver CVD cutting tool material in WMP20S grade. The design of the cutting edges reduces notch formation and crater wear. Rigid clamp, wedge-type or lever-type clamping toolholders are available.