June 01, 2011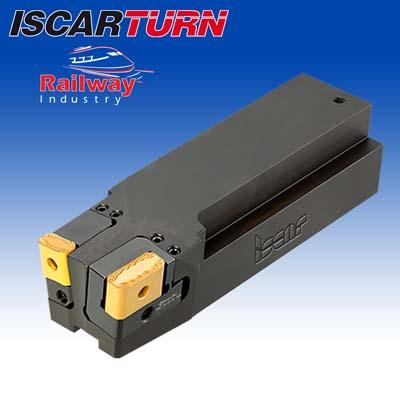 A new family of innovative turning tools from ISCAR raises the threshold for process security in difficult railroad-wheel reconditioning work. Users report reliably longer tool life by 66 to 250 percent when re-turning hardened alloy steel railroad wheels, even on cracked rim areas that can wreck ordinary tools. They also report uniformly smaller, more manageable chips.
The new ISCAR tools withstand the punishment better due to their tangential design. The insert is oriented tangential to the direction of cut, which aligns its strongest cross section to the main cutting force vector. This dramatically reduces the risk of sudden, premature edge rupture and resulting chronic production stoppages. It also leads to stronger cutter bodies, making the entire cutting system more rigid and secure. Even when roughing a wheel with a 12mm depth of cut on a cracked surface, the tool lasts reliably longer. The edge wears down gradually and predictably, rather than fracturing, reducing the need for operator attendance.
The ISCAR railcar-wheel tool family includes inserts and cartridge-type toolholders able to complete the entire wheel profile in a single pass on any mainstream rail-wheel reconditioning machine. They work as drop-in replacements for conventional tools, not even requiring any new tool offset. Each tool holds two inserts oriented differently, to reach every part of the profile. The inserts come in four grades to match all cutting conditions, from roughing cracked wheels on an unstable machine to finishing on a tight one. All inserts feature aggressive WM chipbreaker top-face geometries to eject hot chips, minimize re-cutting and keep the operation running cooler. They have been especially effective in breaking up long chips during rim turning.
ISCAR recommends insert grades IC8150/IC9150 for finishing under stable conditions, and IC8250/IC9250 for semi-finishing and finishing under unstable conditions. In one application on a Rafamet under-floor machine, ISCAR ISOTURN tangential tools improved tool life from 40 to 72 pieces despite increasing the feed rate by nearly 100 percent. On a Hegenscheidt-under floor machine under identical conditions, a drop-in switch to the new ISCAR tools more than doubled tool life to 30 pieces, from 12.
Additional Products from Iscar USA