October 15, 2019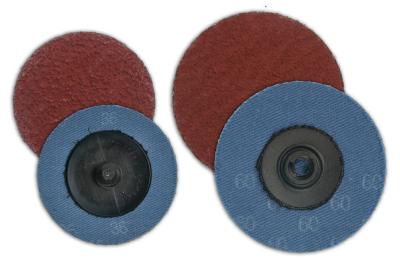 Weldcote offers its new lines of Quick-Change, Roll-On and Turn-On ceramic C-Prime discs for steel, stainless steel, ferrous and nonferrous metals.
Used for finishing, grinding, deburring and blending applications, Weldcote's high-quality Quick-Change, Roll-On, ceramic C-Prime discs are manufactured of an improved ceramic grain structure that is available in seven grits ranging from 24 to 120 in its 2-inch size disc and six grits ranging from 24 to 120 in its 3-inch size disc. Its Quick-Change, Turn-On, ceramic C-Prime discs are available in six grits ranging from 36 to 120 in its 2-inch size disc and three grits ranging from 36 to 80 in its 3-inch size disc.
Using an improved manufacturing technology, Weldcote has developed a proprietary ceramic abrasive grain with a finer crystallized structure that offers longer life, more aggressive grains and improved self-sharpening features when compared to traditional ceramic products. The ceramic grain improvements provide high metal-removal rates at fast cutting speeds with low grinding temperatures and low friction.
"Our new Quick-Change ceramic discs provide users with longer life and a higher rate of material removal," said Joe O'Mera, CEO of Weldcote. "The coated discs, which can be quickly and conveniently changed out, are constructed entirely in the U.S. with a proprietary new material that provides more aggressive performance."
The new Weldcote Quick-Change, Coated, Roll-On and Turn-On ceramic discs eliminate the need for installation tools due to their twist-on-and-off attaching systems, which allows for rapid disc change and maximizes productivity by minimizing downtime.
The line is entirely made in the U.S., from design and lamination, to its die-cut and spin-weld processes.
Related Glossary Terms
abrasive


abrasive

Substance used for grinding, honing, lapping, superfinishing and polishing. Examples include garnet, emery, corundum, silicon carbide, cubic boron nitride and diamond in various grit sizes.

grinding


grinding

Machining operation in which material is removed from the workpiece by a powered abrasive wheel, stone, belt, paste, sheet, compound, slurry, etc. Takes various forms: surface grinding (creates flat and/or squared surfaces); cylindrical grinding (for external cylindrical and tapered shapes, fillets, undercuts, etc.); centerless grinding; chamfering; thread and form grinding; tool and cutter grinding; offhand grinding; lapping and polishing (grinding with extremely fine grits to create ultrasmooth surfaces); honing; and disc grinding.