April 28, 2022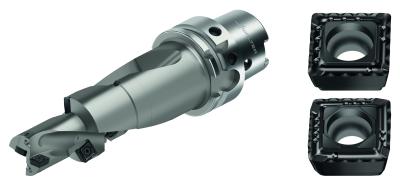 Walter has introduced the PVD drilling WNN15 grade for indexable insert drills. The extremely reliable, low-adhesion grade WNN15 is now included in the range for Walter indexable insert drills. This grade is primarily designed for drilling in tough ISO N materials such as wrought aluminum alloys or cast aluminum alloys. Primary areas of application are in aerospace, automotive and general machining when weight reduction is key.
The grade provides for reliable chip removal thanks to its extremely smooth surface with a reduced tendency towards adhesion and build-up on the cutting edge to increase process reliability and wear resistance.
The WNN15 grade delivers outstanding process reliability and long tool life, even at extremely high cutting speeds. This means that it makes indexable insert drilling more cost-effective than comparable PCD tools with immediate effect. The indexable insert drills offer the advantage of multiple indexing which means that the tool can be used again immediately and with comparably lower costs and less time required. Worn indexable inserts can be replaced quickly and easily.
The Walter drilling grade WNN15 features a hard substrate on the indexable inserts, which promotes high cutting-edge stability. The PVD coating created using the HiPIMS process creates a particularly smooth, dense surface – leading to a rake face surface that performs better that polished carbide surface. Chip removal is smooth and there is hardly any build-up on the cutting edge. Due to its high wear resistance, drilling processes using the Walter grade WNN15 are extremely reliable. An increase in the tool life of up to 200% can be achieved, depending on the application, compared to conventional drilling grades. The WNN15 drilling grades are now available for most of the indexable insert drills in Walter portfolio. These include: D4120 (sizes 1-8), D3120(sizes 1-7), and B3212.DF--B3214-DF (0.394-0.709 in. (10-18 mm).