January 12, 2012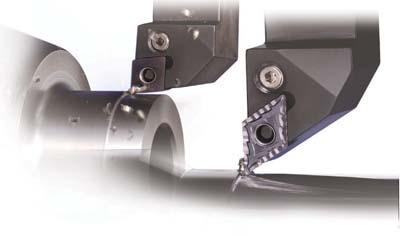 Kyocera Industrial Ceramics Corp., Cutting Tool Division introduced its new PV7025 PVD-coated cermet grade of indexable cutting tool inserts for general machining of steel.
Featuring Kyocera's new proprietary MEGACOAT PVD coating technology, PV7025 offers extraordinary wear resistance and heat resistance, providing superior durability in high-speed machining. When combined with a super micro-grain cermet substrate, the result is an exceptional cutting tool material for steel machining.
Kyocera's MEGACOAT Cermet features several key advantages, including:
MEGACOAT Cermets are less chemically reactive than carbide, which reduces the tendency for built-up-edge and provides improved surface finishes.
MEGACOAT Cermets are capable of running wet or dry, allowing reduced coolant costs and easier recycling of metal chips. Cermet pricing remains stable as compared to the rising cost of tungsten carbide.
PV7025 maintains a Flexural Strength equivalent to P15 Carbide, making it capable of a wide range of cutting depths and feedrates, including continuous roughing to finishing applications.
PV7025 is the most recent addition to Kyocera's MEGACOAT Cermet family. Previously released grades include PV7010 for high-speed finishing of steel and PV7005 for Cast Iron machining.