May 24, 2017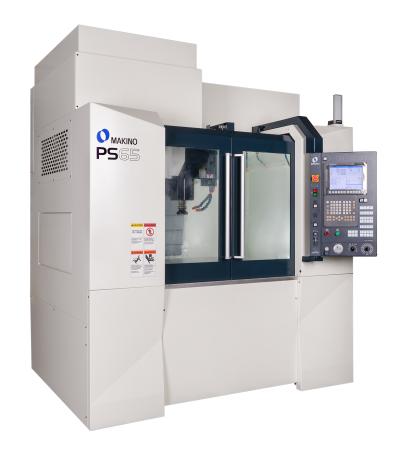 Building on its PS-Series product line, Makino announced the next-generation PS65 (pictured) and PS105 vertical machining centers. Both models feature enhanced design characteristics and next-generation technologies that expand upon the capabilities of their predecessors. With an ideal blend of power, accuracy, speed and reliability, the PS65 and PS105 are redefining the standard for vertical machining center productivity within the aerospace, medical, automotive and general manufacturing industries, according to the company.
"Whether you're dealing with tough materials, like titanium, or free machining materials, such as aluminum, the new PS65 and PS105 provide a robust platform for cranking-up the productivity in virtually any shop environment," said William Howard, Makino's vertical machining product manager. "With the new PS105, we've expanded upon the PS95 providing a larger work table, a 14 percent increase in X-axis travel and overall work volume, providing additional work space for more parts or larger parts as needed. Increased rapid traverse rates on both machines provides further reduction in part processing times, improving productivity and reducing costs. In addition, the machines are production ready, touting a list of standard features including an integrated lift-up, scraper-drum chip conveyor (LUCC) and 3.0 Mpa (435 psi) through-spindle coolant system complete with cyclonic filtration. Simply put, there's no other production vertical on the market today with this scope of standard features."
X-Axis Travel
PS65: 660 mm (26.0")
PS105: 1050 mm (41.3")
Y-Axis Travel
510 mm (20.0")
Z-Axis Travel
460 mm (18.1")
Table Size (W x L)
PS65: 510 x 920mm (20.0" x 36.2")
PS105: 510 x 1,300mm (20.0" x 51.2")
Maximum Workload
PS65: 600 kg (1,323 lbs)
PS105: 800 kg (1,763 lbs)
ATC Capacity
30 tools (60 tools optional)
From the base casting to the spindle, rigid design characteristics have been incorporated within a variety of machine elements of the PS65 and PS105. Core-cooled ballscrews maintain critical motion component temperatures by combating heat for improved axial motion, accuracy and extended reliability. By delivering this thermally controlled lubrication oil through the ballscrew and support bearing, component life span and accuracy are extended.
Equipped with a standard 14,000-rpm, CAT 40 spindle (HSK-63A optional), the PS65 and PS105 provide the power, torque and rpm capability to support today's cutter technologies, offering high levels of material removal in even the toughest materials. This capability is complemented by a stiff, rigid, balanced spindle design, featuring large, 85-mm (3.35 inch) that eliminate spindle deflection. The result is a stable cutting process that is capable of delivering both high metal-removal rates and high-quality machined surfaces.
Tool loading on the PS machines is easily facilitated from either an exterior loading station or directly into the spindle. Both machines feature a standard 30-tool capacity ATC magazine, which can be upgraded to an optional 60-tool capacity magazine. Each configuration provides fast and smooth tool changing to support high-speed machining applications. To push productivity even further, the machines are configured with a dual-speed tool change system that recognizes lighter tools and will speed up the tool exchange cycle.
Created with the production environment in mind, the PS-Series chip and coolant management systems help to enhance productivity. Configured with steep internal side slopes, coolant flush on the tele-covers, spiral chip conveyors and nozzle and flush coolant as standard features, chips are efficiently and effectively removed from the cutting zone.
The machine table moves toward the operator to minimize reach to the table and is designed at a comfortable height for operators to readily access the spindle and workzone. Additionally, the "L-shaped" operator access doors provide open ceiling accessibility to facilitate easy handling of large, heavy workpieces and fixtures that require an overhead crane.
The Makino Pro P Control features a 10.4 inch, color LCD screen that is "touch" sensitive with on-screen navigation providing instant access to information that is literally at your fingertips. The Pro P control combines the high number-crunching power and data processing capacity of the latest high-speed microprocessor, a user-friendly interface and the proven stability of Fanuc hardware. It provides a highly integrated, embedded control system capable of fast commands, high reliability, flexibility, integration capability and ease of operation.
For production environments interested in optimizing machine utilization, materials usage and human resources through automation, the PS65 and PS65 can be equipped with a variety of options. These optional capabilities may include 4th axis tables, tool length measurement, spindle probe, light curtain, auto doors, robot loading and a variety of other features commonly applied to automated machining processes.
An optional interface for hydraulic fixtures and rotary work heads can be added to the machines, accommodating a variety of hydraulic ports, pneumatic ports and coolant ports facilitating adding automation features to the machine.