March 01, 2015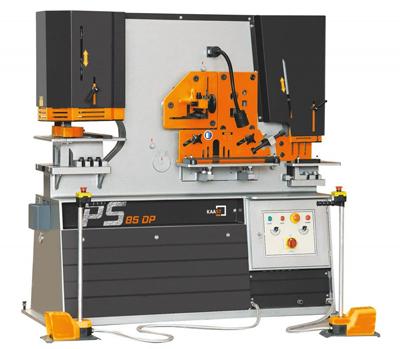 The PS 85 DP Ironworker from Kaast Machine Tools Inc. is reportedly a versatile piece of equipment. Like a Swiss Army knife, it is completely invaluable in that it is multipurpose. The PS 85 DP has five workstations for punching, shearing and notching. This machine has two independent cylinders allowing for dual operation, which translates to parallel work on the punch and at a second work station. This includes an electric trigger switch up to 1000mm for quick workflow of repetitive work. Each work station includes jog-mode for precise tool and workpiece positioning.
The punching station allows for the punching of sheet metal, flat and angle steel at 25 strokes per minute. This punching station also contains a sturdy table with a working height of 1070mm (42") for high-quality cutting results, stepless stroke adjustment and an adapter for punches and dies. It can take a punch up to 4.25" in diameter and with punch through material up to ¾" thick.
The flat shear has a lower blade with four cutting edges, an upper blade with two cutting edges and a table with angle and length stop. The angle shear allows you to easily cut angle profiles at different angles and has an adjustable rear stop. At 90 degrees, the cutting capacity is 150 × 150 × 15mm (6" x 6" x 0.5"), and at 45 degrees, the cutting capacity is 80 × 8mm (3.1" x 0.31"). The sheet shearing station has a maximum capacity of 380mm width by 20mm thick (15" x 0.75") and 480mm width by 15mm thick (18.9" x 0.6"). It also has an angle cutting capacity of 120 x 15mm (4.75 x 0.6") as well as a blade length of 482mm (19").
The Steelworker is used for cutting round and square steel and contains a 1000mm back gauge. The notching station includes a table with stops as well as a rectangular notching tool.
All of these features combined allow the user to perform more than one task at the same time to optimize production with quality results. The PS 85 DP has a throat depth of 505mm (19.7") to allow for working with a larger size of sheet metal. It will punch up to 1 ¼" diameter by a thickness of 0.78" and has a stroke length of 80mm (3.2"). The machine offers 90 US tons of pressing force and a 10-horsepower motor.
Related Glossary Terms
flat ( screw flat)


flat ( screw flat)

Flat surface machined into the shank of a cutting tool for enhanced holding of the tool.

parallel


parallel

Strip or block of precision-ground stock used to elevate a workpiece, while keeping it parallel to the worktable, to prevent cutter/table contact.