October 01, 2014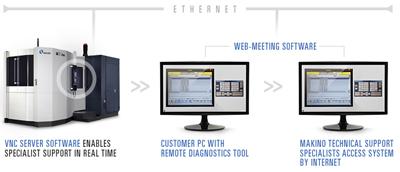 Makino introduces ProVis Remote Diagnostic (RD) technology. This tool provides Makino technical support specialists with a clearer view of customers' machining centers, enabling these specialists to troubleshoot more efficiently, diagnose potential issues faster and maximize machine uptime.
"Makino machines are built for years of superior performance and reliability, but, should it be needed, ProVis RD technology allows Makino technical support specialists to troubleshoot Makino equipment from a remote location," said Mark Rentschler, marketing manager. "By providing real-time virtual support to the machine and its control, the Makino technical support specialist is able to troubleshoot problems and quickly fix issues from off site at any time of day or night, preventing unnecessary machine downtime."
Through an internet connection and Makino's VNC server software, Makino's technical support specialists see a live display of the Pro5 Control, through the ProVis remote diagnostic tool. Technical support specialists can virtually navigate and guide the customer or field service engineer through the Pro5 control screens and the steps of machine recovery, as if he or she were actually at the machine.
With the ProVis RD technology, the Makino technical support specialist can see the screen, ask the onsite service technician to take specific actions to solve problems, or put in proprietary codes. If the technical support specialist is already at the customer's location for on-site support or preventive maintenance, the specialist can connect his/her laptop to the customer's machine and to Makino to troubleshoot the issue.
ProVis technology accelerates the troubleshooting process. Problems can be diagnosed quickly, reducing machine downtime by providing greater visibility and real-time remote support for the machining center. This value-added service is available at no cost to all customers with a Pro5 control, and to all distributor field and phone support technicians.
Makino provides lifetime support of its machines with parts, regardless of the age of the machine. Should it be necessary, more than 15,000 different stocking units are in inventory and can be ordered both online or by phone. Makino personnel are available to ship these parts within 24 hours, seven days a week, from one of 10 strategically located North American warehouses. These locations include Wichita, Kan.; Detroit, Mich.; St. Louis, Mo.; Cincinnati, Ohio; Dallas, Texas; Seattle, Wash.; Menomonee Falls, Wis.; Montreal, Canada; Toronto, Canada; and Mexico City, Mexico.
Related Glossary Terms
centers


centers

Cone-shaped pins that support a workpiece by one or two ends during machining. The centers fit into holes drilled in the workpiece ends. Centers that turn with the workpiece are called "live" centers; those that do not are called "dead" centers.

machining center


machining center

CNC machine tool capable of drilling, reaming, tapping, milling and boring. Normally comes with an automatic toolchanger. See automatic toolchanger.

recovery


recovery

Reduction or removal of workhardening effects, without motion of large-angle grain boundaries.
Additional Products from Makino Inc.