May 12, 2012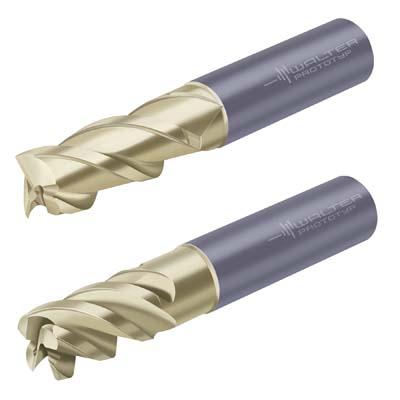 Walter USA LLC has introduced the Walter Prototyp Proto-max ST solid carbide end mill designed to provide superior performance in the machining of steel.
Productivity enhancing features allow this tough new end mill to achieve material removal rates up to 50 percent greater than standard solid carbide end mills. These include an optimized geometry that provides enhanced stability for the cutting edges, and a special surface treatment on the shank for a firm grip. In addition, there is a new type of coating with a zirconium nitrite-based surface layer. Due to its chemical composition the coating has a lower affinity with steel, resisting build-up at the edges and boosting tool life.
The new Proto-max ST is available in a range of diameters from 1⁄16-¾-in, (2-20mm), and in three and four flute designs. Variable flute spacing on the four flute model reduces harmonics that can cause vibration. There is a 45 degree helix angle on the three flute design while the four flute design has a 50 degree helix angle, both of which promote improved chip evacuation and surface finish. The three flute tool permits slotting depths of up to 2xD, with up to 1.5xD for the four flute tool.
Taken together, Proto-max ST design features reduce cutting forces and spindle loading. This enables the tool to be used effectively in less-than-stable clamping arrangements or where there are irregularities in the workpiece. This is a particular advantage on less robust machines.
In addition to its primary steel application, the Proto-max ST can be used effectively on stainless steels. A version of the tool for hardened steel (ISO-H) is also available.