November 10, 2017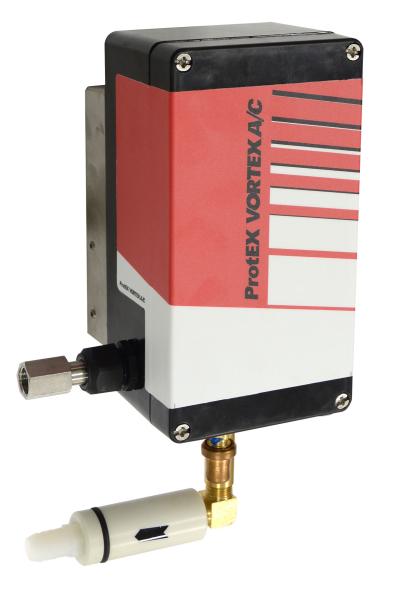 ITW Vortec has released an update to its line of enclosure coolers. The ProtEX Vortex A/C enclosure cooler, released in April 2017, has been granted certification for Class I, Division 1, Groups A, B, C and D; Class II, Division 1, Groups F and G; and Class III, after extensive review by Underwriter's Laboratories (UL). The new UL Classification is on top of the existing ATEX Certification for Zones 1 and 21, which complies with the latest EN ISO 80079 36:2016 standard. The unique combination of UL Classification (UL File E356284) and ATEX Certification greatly expands the industries and locations where Vortec enclosure coolers can be used.
"ATEX and UL Certification mean that industrial facilities can now save thousands of dollars while cooling electrical, electronic and control system enclosures in ATEX Zones 1 and 21, as well as Class I, II and III Division 1 locations," said Vortec engineer Steve Broerman. "Previously, industrial facility managers had to purchase large, heavy and expensive hazardous location air conditioners, requiring a large initial investment with ongoing maintenance costs. The new ProtEX models are small, easily installed and require minimal maintenance costs. In addition, they are certified for ambient temperatures up to 175° F, which is significantly greater than most hazardous area rated Freon air conditioners."
The newly certified ATEX and UL ProtEX Vortex A/C models 8115, 8125, 8135 and 8170 draw on Vortec's 50-plus years of air technology expertise and an in-depth knowledge of industrial needs. Vortec noticed a need for cost effective, efficient cooling solutions in industrial environments, specifically in hazardous locations. These Vortec models offer 900, 1500, 2500 or 5,000 BTU/hour cooling capacity to suit the differing needs of each enclosure and facility. Vortec's ProtEX Vortex A/C units are designed to cool enclosures quietly, with 62 dBA operations, 78 percent quieter than typical vortex coolers, according to the company.
The design of the product, along with the customer's purge and pressurization unit, ensures that the electrical enclosure stays cool and slightly pressurized to protect it from the hazardous environment. They require no wiring and can be easily installed in under 5 minutes. A mechanical thermostat turns the cooling on only when necessary, providing greater efficiency and savings. A new filter with a pressure drop indicator, notified operators of necessary filter changes, thus ensuring continued efficiency and safety.
All four Vortec ProtEX models have a small footprint, allowing them to fit in confined areas, have top or side mount capabilities, carry UL Type 4X certification and are approved for a Temperature Class of T3. The Vortex A/C units have already been successfully cooling in a range of industrial environments from petrochemical plants to food manufacturing and foundries.