November 13, 2013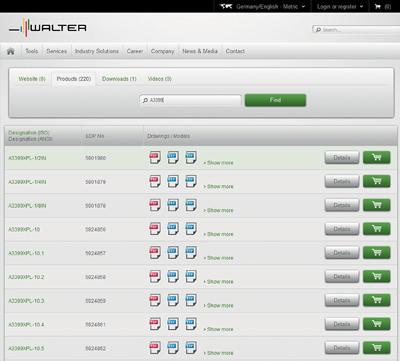 With the launch of its new website, Walter has provided a new virtual tool titled Product Code Search, an online search function for Walter tools which uses the name or order number of the tools as the search criteria.
Users planning machining tasks can call up all of the available tool drawings and 3D models (simulation data) for a tool using the website www.walter-tools.com. Searches can be conducted by entering the name of the tool, which is found either in the catalog, on the packaging label or on the order documents. They can also enter the 7-digit order number found on the packaging label. The drawings can then be transferred to CAD programs where the 3D models are used to simulate the machining process or to program the machine.
The new Product Code Search tool is available worldwide in nine languages. Users who work with STEP models can also use it to save time and money. It also makes tool management more efficient.
"Our customers can now make tool management more efficient by putting together tool documentation by themselves very easily," explains Werner Strobel, Product Manager for Turning at Walter. "The new Product Code Search provides them not only with data, but also allows them to order tools immediately online."
Related Glossary Terms
computer-aided design ( CAD)


computer-aided design ( CAD)

Product-design functions performed with the help of computers and special software.

turning


turning

Workpiece is held in a chuck, mounted on a face plate or secured between centers and rotated while a cutting tool, normally a single-point tool, is fed into it along its periphery or across its end or face. Takes the form of straight turning (cutting along the periphery of the workpiece); taper turning (creating a taper); step turning (turning different-size diameters on the same work); chamfering (beveling an edge or shoulder); facing (cutting on an end); turning threads (usually external but can be internal); roughing (high-volume metal removal); and finishing (final light cuts). Performed on lathes, turning centers, chucking machines, automatic screw machines and similar machines.