November 01, 2010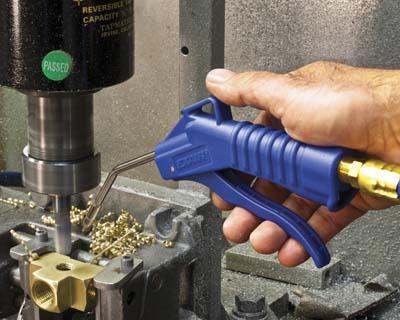 Exair Corp.'s new Precision Safety Air Gun is lightweight and comfortable to operate during periods of extended use. The highly focused, forceful blast of airflow provides excellent cleaning ability and is suited to a wide range of industrial applications. This safety air gun has a small diameter nozzle and extension that will fit into tight spaces while packing the punch of strong blowing force.
The sleek profile is an ideal fit for small and large hands alike. The Precision Safety Air Gun uses the company's Nano Super Air Nozzle, which has been engineered to maximize entrainment of room air while minimizing compressed air consumption. The Nano Super Air Nozzle is available in a rugged type 316 stainless steel or PEEK plastic to provide nonmarring protection should the nozzle come in contact with other surfaces. The PEEK nozzle provides excellent resistance to chemicals, fatigue and temperatures up to 320°F (160 degrees C).
The Precision Safety Air Gun has an ergonomic design to keep the hand in a comfortable position. A hanger is provided for convenient storage or mounting to a tool balancer. Prices start at $53.
Related Glossary Terms
fatigue


fatigue

Phenomenon leading to fracture under repeated or fluctuating stresses having a maximum value less than the tensile strength of the material. Fatigue fractures are progressive, beginning as minute cracks that grow under the action of the fluctuating stress.