November 13, 2013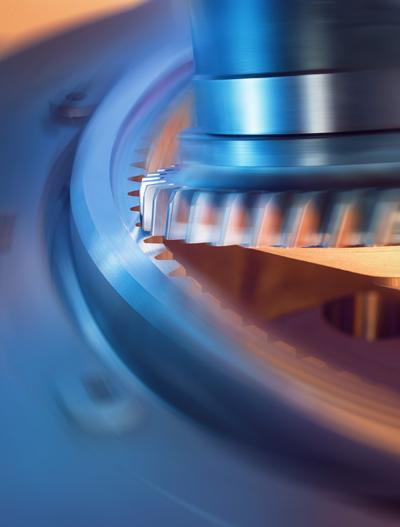 Gleason Corp. has announced their complete set of Power Skiving solutions, providing an economical process ideally suited for the production of internal gears, and for all gears with interfering contours and features. By combining unique machine, cutting tool, and Power Skiving process expertise, Gleason offers users significant performance improvements, particularly in operations where shaping, forming, pressing and broaching are typically used. As compared to shaping, for example, Gleason Power Skiving solutions can deliver productivity rates as much as eight times higher.
The Gleason Power Skiving process additionally delivers quality levels that are superior to other soft machining processes, with the potential to be used as a "green" finishing operation.
With models available for work pieces as large as 700mm in diameter, Gleason Power Skiving machines utilize rigid guideways and specially designed spindles with oversized diameters and more rigid bearings. Easily integrated production lines, a large selection of peripheral equipment provides users with the ideal solution for any production volume and lot size.
Gleason provides the machines, cutting tools and the Power Skiving process, helping to deliver significantly better part quality and surface finishes than shaping. Profile modifications as well as a tooth tip chamfer can be built into the cutter while lead modifications are realized by additional movements of the machine axes. The cutting cycles can be modified for aggressive roughing and fine finishing maximizing both productivity and quality. Profile, lead and tooth thickness can be corrected according to the results shown on the inspection charts.
Comprehensive Power Skiving Technology Software enables users to easily simulate the entire cutting process and plan the most effective process strategy. Users can analyze the influence of different cutting tool geometries and process parameters. The Technology Software allows you to decide if a given part can be safely and economically power skived or whether it would be better shaped, making Power Skiving as simple and familiar as shaping.
Related Glossary Terms
broaching


broaching

Operation in which a cutter progressively enlarges a slot or hole or shapes a workpiece exterior. Low teeth start the cut, intermediate teeth remove the majority of the material and high teeth finish the task. Broaching can be a one-step operation, as opposed to milling and slotting, which require repeated passes. Typically, however, broaching also involves multiple passes.

shaping


shaping

Using a shaper primarily to produce flat surfaces in horizontal, vertical or angular planes. It can also include the machining of curved surfaces, helixes, serrations and special work involving odd and irregular shapes. Often used for prototype or short-run manufacturing to eliminate the need for expensive special tooling or processes.