September 07, 2017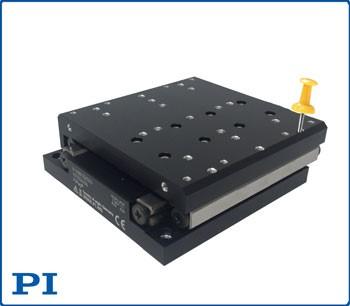 PI expands its PIMag series of high dynamics linear motor stages with a new compact positioner for automation tasks. The new V-408 stage is equipped with an incremental linear encoder for direct position measurement and a high-force 3-phase linear motor drive.
The V-408 features high load capacity precision crossed roller elements with anti-creep cage assist, preventing roller creep, and a zero-wear, noncontact linear motor – ideal prerequisites for long lifetime in high duty cycle industrial applications. The high-force linear motor achieves velocities up to 1.5m/sec. An integrated optical linear encoder provides 10 nanometers resolution. The stage achieves 20nm minimum incremental motion and excellent geometric performance with 4µm straightness and flatness.
The V-408 is designed to keep cost of ownership and operation at a minimum. Two models are offered with 25mm and 50mm travel range. Integration is facilitated by the compact dimensions with a low profile of only 25mm. The 1" travel model features a square footprint of 80x80mm while the 2" travel model is only 25mm longer.
Linear motors provide very smooth motion, and a high dynamic velocity range along with rapid acceleration. They are ideal for scanning applications or automation tasks where repetitive fast start/stop motion with high precision is required and where reliability and maximum uptime are crucial.
The V-408 stage can be controlled by PI's C-891 motion controller and also by ACS and 3rd party controllers.
Related Glossary Terms
linear motor


linear motor

Functionally the same as a rotary motor in a machine tool, a linear motor can be thought of as a standard permanent-magnet, rotary-style motor slit axially to the center and then peeled back and laid flat. The major advantage of using a linear motor to drive the axis motion is that it eliminates the inefficiency and mechanical variance caused by the ballscrew assembly system used in most CNC machines.