May 25, 2018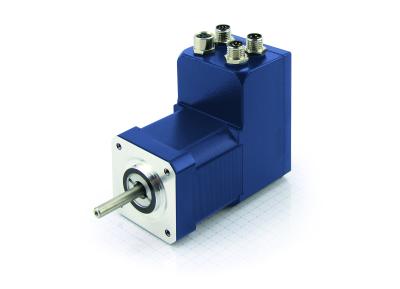 For use in harsh environmental conditions, Nanotec developed the PD2-C-IP, a brushless DC servo motor with integrated controller and 42 mm flange size in protection class IP65.
The PD2-C-IP is available as a brushless DC motor, with an operating voltage of 12-48 V and a rated power of 105 W, and as a stepper motor with a nominal torque of up to 0.5 Nm. Because of the field-oriented control based on an integrated encoder, both motors are controlled in the same way and differ only in their working point.
Each motor is available in a USB and in a CANopen version. In the USB version, the motor can be parameterized and programmed for standalone operation. The USB port is covered by a waterproof cap, and the motor operates on the basis of the digital and analog input signals in combination with the stored program. In the CANopen version, the motor can be controlled via the CiA 402 fieldbus profile.
For pin-out the motor is equipped with M8 connectors (except USB).
Because of the minimal installation effort and low space and component requirements, the PD2-C-IP from Nanotec offers an effective and economical drive solution when high precision and maximum benefit are required.