October 13, 2013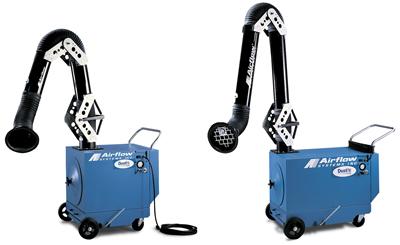 The PCH Series of portable dust collection systems from Airflow Systems Inc. provides source-point collection of airborne contaminants and prevents contaminants from migrating throughout the facility to settle on equipment and fixtures, contaminate product or present physical hazards to personnel. The PCH Series collection and filtration system is suitable for a wide range of particulate types, including: chemical, pharmaceutical, and food processing dusts and powders; buffing, polishing, and grinding dusts; weld smoke; fumes and odors; even oil mists.
Collection efficiency is optimized, power consumption is reduced, and operator obstruction is minimized due to the PCH Series patented E-Z Arm High Flow Extractor arm design. The E-Z Arm close-profile, external arm support eliminates the air flow resistance common with internally supported arms; enabling the PCH Series to produce higher air flow levels with lower power requirements than competitive units. The PCH Series also includes a dynamically balanced, nonsparking, all-aluminum motor, designed and built by Airflow Systems, to enable the compact, easily maneuvered PCH unit to collect contaminants directly at the source without risk of igniting volatile dusts.
The PCH Series includes a PCH-1 model, available with a 0.5, 1.0, or 1.5 HP motor capable of air flow rates up to 800 CFM; and the PCH-2 model, available with a 1.0, 1.5, or 3.0 HP motor capable of air flow rates up to 1,200 CFM. The PCH Series of portable dust collectors includes the patented Airflow Systems Vibra-Pulse Filter Cleaning System that utilizes pulsed, compressed-air technology combined with a filter-rapping action to clean the filter and return the filter to an 80 percent dust holding capacity.
The PCH Series is offered in standard construction of 14/16 gauge welded steel or available stainless steel construction for sanitary applications. The PCH Series offers a range of options including custom cartridge media to suit various applications; 99.97 percent HEPA, 95 percent DOP, and odor after-filters; a 65-watt halogen light kit; and a pressure gauge to automatically alert operators when filters require cleaning.
Related Glossary Terms
buffing


buffing

Use of rapidly spinning wires or fibers to effectively and economically remove burrs, scratches and similar mechanical imperfections from precision and highly stressed components. The greatest application is in the manufacture of gears and bearing races where the removal of sharp edges and stress risers by power methods has increased the speed of the operation.

grinding


grinding

Machining operation in which material is removed from the workpiece by a powered abrasive wheel, stone, belt, paste, sheet, compound, slurry, etc. Takes various forms: surface grinding (creates flat and/or squared surfaces); cylindrical grinding (for external cylindrical and tapered shapes, fillets, undercuts, etc.); centerless grinding; chamfering; thread and form grinding; tool and cutter grinding; offhand grinding; lapping and polishing (grinding with extremely fine grits to create ultrasmooth surfaces); honing; and disc grinding.

polishing


polishing

Abrasive process that improves surface finish and blends contours. Abrasive particles attached to a flexible backing abrade the workpiece.