August 01,2010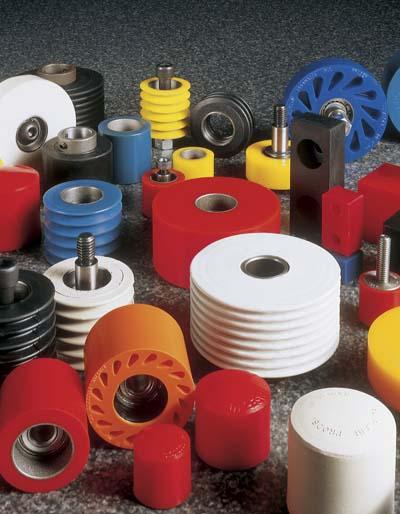 Nothing is more fundamental to successful manufacturing than ensuring that parts are not marred, scratched or otherwise damaged during the manufacturing process. That is why Fixtureworks makes available a wide range of rollers and bumpers from Fairlane Products, all designed to protect parts ranging from those that are delicate or fragile to those that are heavy or unusually shaped. Rugged, wear resistant and smooth, Fairlane Products rollers and bumpers are injected molded and available in a variety of sizes, durometers, mounting options and materials. They can be used on conveyors, belt idlers, racks, shock cushioners, stamping die part-guides and supports, sheet metal roll feeders, carts and wagons, and more. They can also be designed into machines and assembly operations. In short, they can be used nearly anywhere that protection for parts movement is needed. Standard rollers are available as mini-solid, solid, self-cleaning finned and DuraSoft compliant rollers. They are available in sizes from 1-½" to 4" in dia. and are molded from black neoprene, white nitrile or polyurethane. DuraSoft rollers provide compliance, or "flex" for firm yet non-damaging pressure, rendering them an excellent choice for a wide array of fixturing, assembly and material handling operations. Standard rollers can be machined for custom applications. A standard selection of four different mountings is available to meet a wide range of applications. These include shaft drive, roller only, roller with bearing and roller with bearing and mounting hardware. Bumpers are available in round, square and rectangular shapes as well as custom cut. The square and rectangular bumpers are available in black neoprene and polyurethane in 35, 60 and 80 durometers with sizes of ¾" square to 2-½" x 4". Their heights range from 3/8" to 2". Special cut bumpers are available in black neoprene, 80 durometer, with rubber thickness from 3/8" to 2" and an aluminum plate backing. All square, rectangular and special cut bumpers can be fabricated with drilled, counter-bored or tapped holes, with aluminum backing.
Related Glossary Terms
backing


backing

1. Flexible portion of a bandsaw blade. 2. Support material behind the cutting edge of a tool. 3. Base material for coated abrasives.