September 17, 2018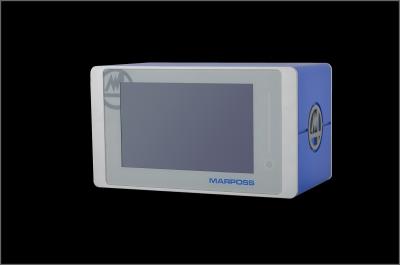 Marposs Corp.'s new P3dME electronic gage amplifier is for post-process monitoring of smooth and grooved parts. This device, in conjunction with Marposs measuring heads, is a flexible, practical and reliable solution for checking parts immediately after they have been machined. The P3dME will measure the workpiece and provide immediate compensation information to the machine tool. This ensures that parts are within tolerance limits and helps optimize cycle times.
The P3dME is a compact gage that can be installed on the machine tool as a standalone device or integrated into the machine front end PC using a dedicated HMI. It features a 7-inch touchscreen with an intuitive, easy-to-use operator interface. Its robust housing is designed to withstand harsh shop-floor environments and resist abrasive grit, metallic particles and cutting fluids.
The unit is available with either two or four channels for connecting to Marposs LVDT or HBT type measuring heads. Depending upon the chosen measuring head, the P3dME has a measuring range of ±250 to 2,000 μm.
Related Glossary Terms
abrasive


abrasive

Substance used for grinding, honing, lapping, superfinishing and polishing. Examples include garnet, emery, corundum, silicon carbide, cubic boron nitride and diamond in various grit sizes.

tolerance


tolerance

Minimum and maximum amount a workpiece dimension is allowed to vary from a set standard and still be acceptable.