July 12, 2012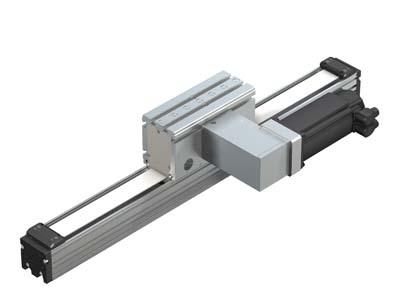 Feed units in machine tools, assembly lines and handling applications often require fast deep plunges into large workspaces. Combined with the increasingly fast cycle times of production machines, this places especially high demands on the axis mechanics in automated processes. Rexroth's new linear motion system, the "Omega Module," addresses this need by featuring a very low traveling mass so that top speeds can be reached. The belt drive is fixed to both ends of the main body and is looped around the drive shaft of the table part in the shape of the Greek letter "Omega," reducing the module's mass considerably compared to ball screw assemblies, thereby making it highly dynamic. By guiding the module's table part over ball rail systems, the module achieves a high degree of rigidity for precise movements.
The Omega Module linear motion system allows for higher dynamics over longer distances in feed units, thanks to the combination of its low traveling mass and fast belt drive. Because the drive is stationary, the linear system can be set up in any position in addition to being used as a vertical axis. A pneumatic clamping element maintains the position at standstill and also clamps hanging loads.
As a single axis system, the Omega Module comes with the necessary mechanical and electrical interfaces to fit with the modular Rexroth EasyHandling system. The system's standard Easy-2-Combine form-fit connection method can speed assembly and reduce up-front engineering time, even in multi-axis systems. In addition, it simplifies the direct attachment of pneumatic grippers and rotary modules, or other end-of-arm tooling.
One of the special features of EasyHandling is that it allows for fast start-up. With the EasyWizard commissioning tool, only a handful of axis-specific data needs to be entered, which helps to reduce start-up time to just a few minutes. As a single-axis system, the Omega Module is ideal for assembly and handling applications or in other automation tasks.
The Omega Module comes in three sizes to handle a variety of performance requirements. With a stationary main body, users can specify custom lengths up to 5,500mm and choose from main bodies (frames) with widths of 55, 85 or 120mm. This set-up allows for several carriages with their own drive to be operated independently from each other. Rexroth offers the linear motion system with matching drives, motors and controllers. In the largest size, the mechanics are designed for input torques up to 154Nm. With high acceleration speeds of up to 50m/s2 and speeds of up to 5m/s, it opens up the door for reduced cycle times even for longer movements.
Related Glossary Terms
feed


feed

Rate of change of position of the tool as a whole, relative to the workpiece while cutting.