April 27,2016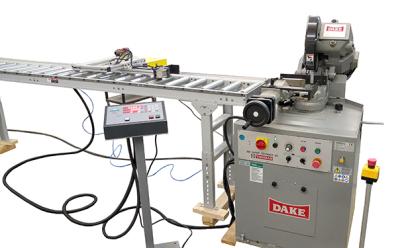 Dake Corp. introduces their line of NC feed systems, giving shops everywhere the ability to increase productivity, decrease setup time, reduce operator error and reduce waste. Using the Dake feed systems, any semiautomatic ironworker, cold saw, drill press or punching machine can easily be turned into a fully automatic production tool, according to the company. A free-standing control panel with an easy-to-read LCD digital display and infinitely variable programming gives operators endless opportunities to enhance their metalworking capabilities.
These feed systems come complete with a precision steel guide and hardened double ball bearings in the moving carrier. A solid steel top is available in 10'-30' lengths and can be mounted on the left or right side. These options make it easy for the operator to cut different lengths and amounts from the same bar.
Operation is easy. Simply place the metal to cut, clamp into place, set the program with the RS232 interface (with TS312 communication software for PC) and be ready to get to work. The free-standing control system offers infinitely variable programming with a ±0.001" encoder accuracy along with the ability to store multiple jobs. Inch/metric conversion programming saves the operator the hassle of having to convert measurements by hand.
The Dake feed systems can be used by shops as a fully automatic push system or a programmable stop system by adding a pneumatic brake.