December 01, 2013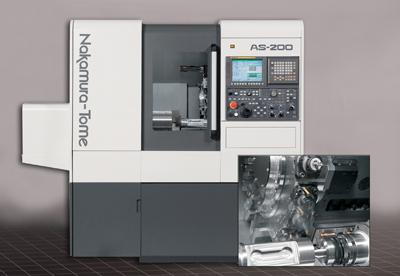 Methods Machine Tools Inc. has introduced the Nakamura-Tome AS-200 High Performance Multitasking Turning Center featuring a single spindle, single turret in a heavy duty and compact machine. The standard package is well equipped with a powerful milling drive, together with a high-speed C-Axis and 82mm stroke Y-Axis for accurate, finished parts.
"The new Nakamura AS-200 offers the quality our customers expect from Methods and Nakamura at a very competitive price point, and it is an excellent solution for shops that want to get into multitasking," said Richard Parenteau, Director of Application Development at Methods Machine Tools. "The AS-200 features high rigidity multitasking for accurate machining at a superb value."
Standard spindle speed is 4,500 RPM. A 7.5 hp milling motor on a 6,000 RPM, 12-station turret with ½ indexing provides 24-tool capacity. Maximum turning diameter is 13.4 inches (340mm) and maximum turning length is 11.8 inches (300mm). The turning tool is 1.0 inch (25mm) and the inside boring shank is 1.25 inches (32mm). The Y-Axis enables turning, drilling and milling off center on the new Nakamura AS-200 multitasking center.
Providing very high rigidity, the AS-200 is a heavy weight machine at 7,055 lbs (3,200 kg). At the same time, it is a compact machine at (5 feet 6 inches) 1,650mm x (5 feet 6 inches) 1,600mm, the smallest in its class for floor space.
The AS-200 features a 10.4" high-resolution LCD panel, which works in conjunction with the latest Fanuc 0iTD controller to give a high degree of functionality, coupled with fast processing speeds. For easy-to-use and reliable support, the NT Nurse II System, NT Work Navigator and Overload Detection are standard on the AS-200. NT Nurse II is comprehensive software that provides user-friendly operation, programming and production support. NT Work Navigator facilitates easy part set-ups with no fixtures required. And for safety, the AS-200 has overload detection via an airbag which greatly reduces any impact due to machine collision.