May 15, 2021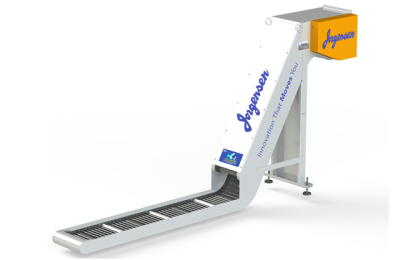 The next-generation MunchMan® Conveyor from Jorgensen Conveyor and Filtration Solutions provides the most-successful system on the market today to manage long, stringy and nested metal chips generated from high-speed turning and milling operations. Jorgensen's latest system improves on a uniquely effective chip and scrap removal conveyor for the machine tool industry, with a patent-pending design that efficiently and cost-effectively eliminates expensive machine downtime. The unique design of the MunchMan® enables the conveyor to fit most of today's CNC lathes and machining centers, with little or no additional space required compared to traditional single-belt chip conveyors.
The MunchMan® uses primary and secondary belts installed at the lower curve and through the incline and chip discharge areas of the system. These belts run in unison to grab chips, compress them and carry them securely up steep inclines. This design eliminates the risk of conveyor jams that can occur when chip balls tumble at the lower curve or jam in the conveyor incline section. "Compared to traditional single-belt conveying systems, the physical effect of two moving belts compressing and moving difficult long, stringy chips and larger chip volumes is dramatic," noted Dustin Krueger, Manager of Engineering.
For the ultimate in conveyor controls, the exclusive UVS Ecologic® Conveyor Control with patented Jam ManagerTM functionality enables unattended automatic clearing of minor conveyor jams. On applications that involve cutting oil and coolant, Jorgensen can build MunchMan® with a coolant reservoir. For proper fit, Jorgensen custom fabricates every conveyor to the individual customer's machine. "We place the highest emphasis on meeting every customer's unique needs with a customized solution," said Karl Kleppek, Director of Sales and Marketing.
Jorgensen customers achieve positive results with the MunchMan® on the production line. One customer reported that "All is well with the MunchMan®. The operator for that machine loves it. We have put it through the wringer and it has performed flawlessly." Another customer reported "absolutely no breakdowns, and it has spit out large watermelon-sized stringers."
More MunchMan® feedback from Jorgensen customers:
"We've never had a Munchman® jam up or cause downtime that was the fault of the conveyor. We currently have 20 in-house and have 6 more on order. When we've added MunchMan® onto all our machines, we'll have more than 50 in total. To say we're satisfied is an understatement." – Maintenance Manager, Metro Detroit manufacturer