March 28, 2018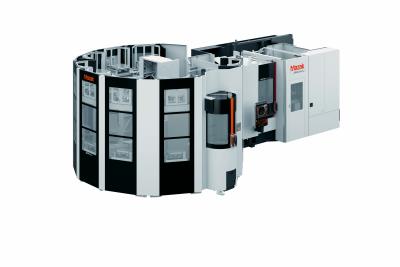 Mazak's HCN-5000 horizontal machining center is now available with the company's Multi-Pallet Pool (MPP) system, a basic automation system in a compact footprint. Thanks to the MPP system, shops that lack the floor space necessary to accommodate a conventional linear horizontal pallet stocker have the ability to automate for continuous unmanned, lights-out operations.
The new automation system features a carousel-style design that maximizes utilization of space – it offers the convenience of a larger Mazak PALLETECH system while taking up to 40 percent less room. Servomotors on each axis, as well as a two-level pallet arrangement that keeps each pallet the same distance from the center of the stocker, ensure fast and stable loading/unloading.
Designed to expand as production needs grow, manufacturers can reconfigure the system's standard 10-pallet stocker to house 16 pallets for even further increased output. With the large, heavy-part operations of the HCN-5000 in mind, Mazak made this latest MPP the biggest version in terms of part size yet. The system houses 500-mm-sq. pallets that accommodate workpieces up to 800 mm in diameter and 1,000 mm high.
For overall process optimization, Mazak provides its SMOOTH MPP software in the HCN-5000's MAZATROL SmoothG CNC. Operators can easily monitor production status with scheduling functions, tool storage monitoring and system utilization analysis accessible from the control's capacitive multiple-touch screen. Options for network access also allow remote monitoring of production.
The new automation option makes the HCN-5000 an even more highly flexible machine. A variety of high-speed or high-torque integral motor/spindle types ensures that shops can match spindle performance to specific materials, including everything from steels to nonferrous metals. Part production also benefits from the machine's highly rigid spindle, numerous tool magazine options, quick rapid traverse speed and vibration-free acceleration/deceleration.
Related Glossary Terms
computer numerical control ( CNC)


computer numerical control ( CNC)

Microprocessor-based controller dedicated to a machine tool that permits the creation or modification of parts. Programmed numerical control activates the machine's servos and spindle drives and controls the various machining operations. See DNC, direct numerical control; NC, numerical control.

machining center


machining center

CNC machine tool capable of drilling, reaming, tapping, milling and boring. Normally comes with an automatic toolchanger. See automatic toolchanger.

rapid traverse


rapid traverse

Movement on a CNC mill or lathe that is from point to point at full speed but, usually, without linear interpolation.