November 05, 2021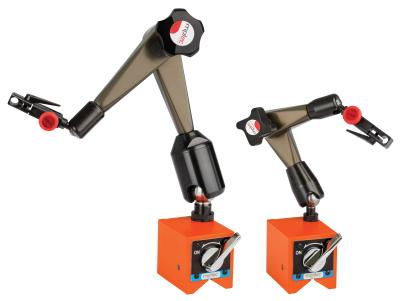 BIG KAISER, a global leader in solutions for the metalworking industries, introduced the heavy-duty MU-VZ and SU-VZ dial indicator stands for precise, stable positioning of inspection devices. Both types have 220-pound (100 kg.) capacity magnets, rotate 360 degrees and can use DGH 3 or 4 adaptors.
The SU Type has a length of 235mm and rubber bellows. The larger MU Type is 360mm in length and has a reinforced ball joint with a large collar. Both use serrated washers instead of flat washers to reduce slippage and increase stability of the center joint.
A singular star grip locks and releases quickly for flexible positioning of the dial gage. The mechanical tensioning technique employed produces a very high clamping force, which enables the repetition of highly accurate measurements. Manufacturing tolerances are extremely tight and high-quality materials result in practically no wear.
Related Glossary Terms
flat ( screw flat)


flat ( screw flat)

Flat surface machined into the shank of a cutting tool for enhanced holding of the tool.

metalworking


metalworking

Any manufacturing process in which metal is processed or machined such that the workpiece is given a new shape. Broadly defined, the term includes processes such as design and layout, heat-treating, material handling and inspection.