March 01, 2015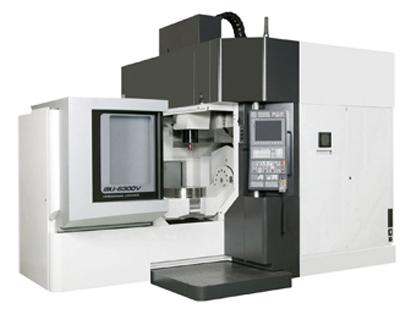 Okuma's MU-6300V vertical machining center is reportedly excellent for 5-axis multi-sided machining and well suited for the aerospace and die/mold industries.
This versatile machine is available with a wide array of spindle options, providing a configuration for nearly any 5-axis job. The unique design places the pallet changes at the back of the machine, allowing easy connection to a PALLETACE flexible manufacturing system or pallet pool, delivering high productivity in addition to high accuracy. The MU-6300V has a highly rigid and accurate double column structure and low center of gravity in workpiece movement (trunnion table) that enables both heavy-duty cutting and high-speed finishing.
The MU-6300V can be equipped with Okuma's exclusive Super-NURBS function, enabling high feed rates and ultra-fine finishes. This reduces the need for hand polishing molds, which increases productivity. Built using Okuma's Thermo-Friendly Concept, this 5-axis machining center performs consistently from the first part to the last, regardless of warm up time or ambient temperatures.