June 19, 2019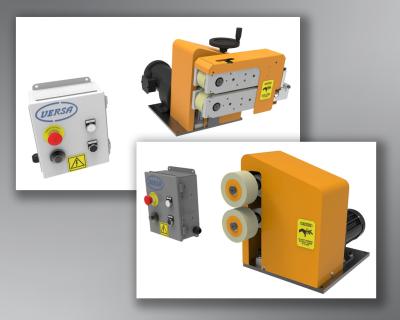 Versa Motorized Puller assemblies include all components for "out of the box" productivity for a wide variety of downstream handling requirements. Available in pinch wheel or Caterpillar designs, pullers are mounted on a 12" x 14" base plate for easy positioning of feed materials and includes a choice of either AC or DC motor and drive, and a remote operator control station (OCS) which can be mounted wherever desired.
A wide variety of speed ranges are available, with pinch roll or belt materials to suit a broad range of product requirements. Versa Motorized Puller Assemblies are ideal for many applications, including downstream handling of pipe, profiles and tubing as well as wire/cable, steel materials, and more.
The OCS includes pushbuttons for start, stop and emergency stop, as well as a 10-turn potentiometer with turns counter for speed control. Digital speed indicator and 115-volt input are standard, with other voltages available as options.
Standard motorized puller assemblies are equipped with a hand wheel to adjust the belt gap, which opens and closes around a constant centerline. Optional pneumatic operation of the belt booms along a constant centerline allows control of the pressure applied to the product being pulled and makes repeatable setup almost instantaneous.
"P" series pinch sheel feeds are commonly used where materials are not sensitive to pinching pressure and in operations where minimal pulling force is necessary. They are available with roller widths from 2" (50 mm) to 5.5" (127 mm) with roll materials offering different traction and wear characteristics. Versa pinch roll pullers are suitable for the manufacturing of bandsaw blades, weed whacker line, 3D printer filament, moving and punching rigid profiles, and for capturing materials trimmed from the edges of various profile and film extrusions.
"C" series caterpillar feeds provide uniform pressure over the entire traction length, which enables greater pulling force without product deformation. Belt configurations range from 2" (50 mm) width X 9" (230 mm) length to 4" (100 mm) width X 18" (460 mm) length. Versa caterpillar pullers are ideal for pulling materials through braiding machines, feeding disc brake materials into grinders, pulling wire and cable and pulling extruded vinyl siding.
A wide variety of belt and pinch wheel materials are available including sponge, gum rubber, silicone, neoprene, urethane or nitrile, some of which are FDA approved. Various durometer ratings are available to suit application requirements.
Additional options include left-to-right configuration, and OSHA guarding package.
Related Glossary Terms
bandsaw


bandsaw

Machine that utilizes an endless band, normally with serrated teeth, for cutoff or contour sawing. See saw, sawing machine.

feed


feed

Rate of change of position of the tool as a whole, relative to the workpiece while cutting.

sponge


sponge

Form of metal characterized by a porous condition that is the result of the decomposition or reduction of a compound without fusion. The term is applied to forms of iron, titanium, zirconium, uranium, plutonium and the platinum group metals.