June 12, 2012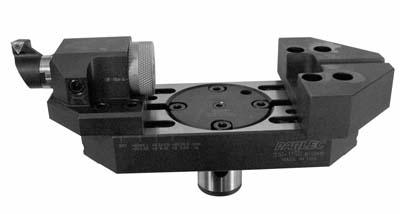 Parlec Inc. has integrated several reengineered products into its Precision Modular Boring line. These products include a new Precision Finish Head, Twin Bore Roughing System, Large Diameter Boring System, and Small Diameter Boring System.
"It's exciting to introduce the first precision modular boring system that can deliver the coolant flow directly to the cutting edge," said Dave Hartman, vice president of engineering and product manager of tooling systems at Parlec. "Even changing the insert holder geometry does not affect the coolant flow."
Features of the Precision Finish Bore include a Vernier scale that allows for incremental adjustments of .0001", a coolant-through design that places the spray directly on the cutting edge instead of ahead of it, and extended reach insert holders that allow a limited number of heads to do the full product range.
The product line's Twin Bore Roughing System boasts an impressive metal removal rate four times that of a single cutter, as well as an allowance for balanced or step cutting to be done with the same set of insert holders. With individual height and diameter settings, the system achieves both balanced and step cutting and easy set up operations.
"Our new Twin Bore Roughing System exceeds the current industry standard with regards to speed and balance," says Hartman. "It is a cost-effective product that allows users to bore an extensive-range of exacting diameters quickly, interchangeably, and with ease."
Parlec's counter-balanced designed new Large Diameter Boring System features reduced weight and coolant delivery directly to the cutting edge, as well as individual height and diameter settings. The system uses ISO standard inserts and allows balanced and step cutting to be done with the same set of insert holders, just like the Twin Bore Roughing system does. In addition, the Large Diameter Boring System introduces slide extensions and risers, making it the first truly modular large diameter system.
The Small Diameter Boring System contributes to Parlec's Precision Modular Boring line by allowing for vibration-free, high-velocity hole making at speeds up to 15,000 RPM. It bores diameters ranging from .078" to 1.890" (2mm-48mm) and can be adjusted up to .0001" (.003mm) on diameter. A through-hole in the receiver allows the boring bar to be telescoped for maximum rigidity under the most demanding cutting conditions. Setting errors are eliminated because there is no movement between lock and unlock positions. All boring bars and noses offer coolant-through capability and are balanced by design. Offered in both inch and metric graduations, the system has been kitted to include a Parlec reengineered, balanceable, small diameter boring head and a variety of noses, bars, reduction bushings and wrenches. All of the modular components are packaged in a sleek and durable lightweight carrying case along with a comprehensive balancing guide.
"This new boring system demonstrates Parlec's commitment to continually improving our customers' manufacturing processes," said Michael Nuccitelli, CEO of Parlec. "We are confident that our recent product advancements will be well received by manufacturers and welcomed as the new industry standard."