November 01, 2010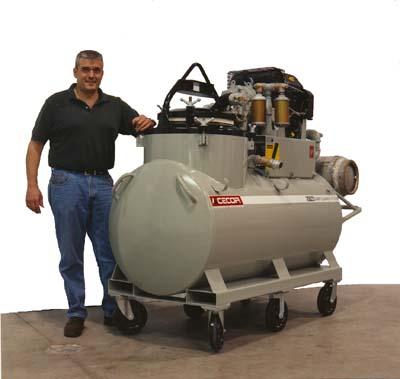 Cleaning a sump today no longer means shutting down the machine for a half a day while someone bails the slimy coolant from the sump with a bucket. Sump cleaning today, using a high-vacuum sump cleaner, can be done in a matter of minutes. CECOR's small propane-powered sump cleaner (Model SP50-175PL6) delivers powerful pumping without electric outlets or air drops.
High suction lift removes coolant, chips and sludge from the sump. Sump contents pass through a filter which separates solids from the coolant. Pump filtered coolant back to machine tool or transport for batch processing. Large capacity filter holds five cubic feet of solids. Twenty-horsepower propane engine powers pump for fast removal of coolants and solids. Lobe type, positive displacement pump generates suction to 13" Hg (Mercury) with a pumping rate up to 110 gpm.
Efficient overhead cam and valve design, and pressure lubrication provide maximum power and torque. Dependable electronic ignition ensures fast, easy starts. Sump Cleaner tank is mounted on the PL "push, lift" base. The PL base allows the sump cleaner to turn corners tightly, circle smoothly and move through the plant fast even when fully loaded. Unit can be maneuvered by one person or transported with a forklift. Six-wheels (2 rigid and 4 swivel) provide extra mobility in tight places. Longitudinal sleeves have two way entry for fork lift transport.
Featured tank size is 175-gallons. Other tank sizes are available.
Related Glossary Terms
computer-aided manufacturing ( CAM)


computer-aided manufacturing ( CAM)

Use of computers to control machining and manufacturing processes.

coolant


coolant

Fluid that reduces temperature buildup at the tool/workpiece interface during machining. Normally takes the form of a liquid such as soluble or chemical mixtures (semisynthetic, synthetic) but can be pressurized air or other gas. Because of water's ability to absorb great quantities of heat, it is widely used as a coolant and vehicle for various cutting compounds, with the water-to-compound ratio varying with the machining task. See cutting fluid; semisynthetic cutting fluid; soluble-oil cutting fluid; synthetic cutting fluid.