April 13, 2018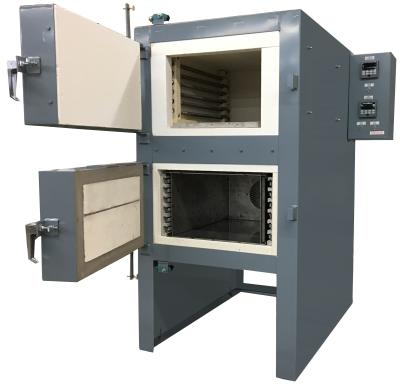 Lucifer Furnaces' delivered a dual-chamber, fiber-lined furnace to a leading manufacturer of punches and dies in North America. The upper chamber of this customized Model LI84-M24 heats to 2,200° F and the lower draw chamber to 1,600° F with 23 KW power.
The upper chamber hotface consist of low-heat-storage ceramic fiberboard for fast heat-up and cool-down. Heat radiates from coil-wound heating elements mounted on ceramic rods, which are completely external of the insulation and can be easily accessed for individual replacement. The lower draw chamber is insulated with 2½" insulating firebrick.
Both chambers are further insulated with cold face backup insulation. The LI-8000 series lower draw chamber is equipped with a fan assembly and stainless-steel liner for recirculation and uniform temperature. Each chamber measures 12"H x 18"W x 24"L; chambers are individually operated with separate digital controls and thermocouples. Standard equipment includes premounted horizontal swing doors with microswitch for safety.
The customer invested in this dual chamber furnace to replace an older unit and will be processing small parts in wire baskets, as well as parts wrapped in foil during hardening.
Related Glossary Terms
hardening


hardening

Process of increasing the surface hardness of a part. It is accomplished by heating a piece of steel to a temperature within or above its critical range and then cooling (or quenching) it rapidly. In any heat-treatment operation, the rate of heating is important. Heat flows from the exterior to the interior of steel at a definite rate. If the steel is heated too quickly, the outside becomes hotter than the inside and the desired uniform structure cannot be obtained. If a piece is irregular in shape, a slow heating rate is essential to prevent warping and cracking. The heavier the section, the longer the heating time must be to achieve uniform results. Even after the correct temperature has been reached, the piece should be held at the temperature for a sufficient period of time to permit its thickest section to attain a uniform temperature. See workhardening.