April 01, 2014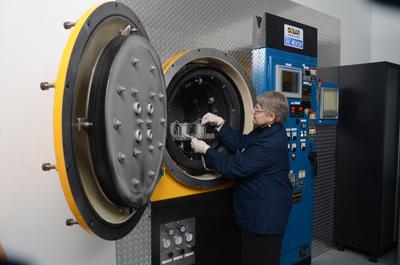 Solar Manufacturing announces the installation of a new and compact vacuum furnace design located at its Solar Atmospheres of Western Pennsylvania heat treating affiliate company facility in Hermitage, Pa. This production scale furnace was designed and developed to accommodate the heat treating and brazing of smaller to mid-size furnace loads in an efficient and economical manner.
For years, the commercial heat treating industry has been looking for a compact yet rugged furnace that could be used to allow these service companies to quote competitively and accept the many smaller loads that are not cost-effective to process in larger production furnaces. In addition, this smaller furnace design can also be used to develop and test new heat treating processes and cycles for the larger production furnaces.
The furnace is a Solar Manufacturing Model HFL-2018-2IQ with an effective work-zone that measures 12" wide x 12" high x 18" deep and is capable of processing loads up to 250 pounds. The hot zone design utilizes a .060" thick graphite foil hot face backed by four layers of half-inch rayon graphite felt. This design allows for operation up to 2500°F with temperature uniformity of +/- 10°F from 1000°F to 2400°F. The vacuum system consists of an Alcatel Model 2033, 33 CFM mechanical pump backed by a Varian Model VHS-6 water-cooled diffusion pump allowing for vacuum levels down to the 10-6 torr range. An internal 2 bar gas cooling system is incorporated using a 7.5 HP motor and heat exchanger for rapid quenching.
Michael Johnson, sales manager for Solar Atmospheres of Western Pennsylvnai, said, "This furnace will give us the ability to process a variety of loads that we were not able to quote prior using our larger furnaces. Also, it will provide added capacity regarding our ongoing research programs we continue to develop for various industries."
Related Glossary Terms
diffusion


diffusion

1. Spreading of a constituent in a gas, liquid or solid, tending to make the composition of all parts uniform. 2. Spontaneous movement of atoms or molecules to new sites within a material.

quenching


quenching

Rapid cooling of the workpiece with an air, gas, liquid or solid medium. When applicable, more specific terms should be used to identify the quenching medium, the process and the cooling rate.