October 12, 2017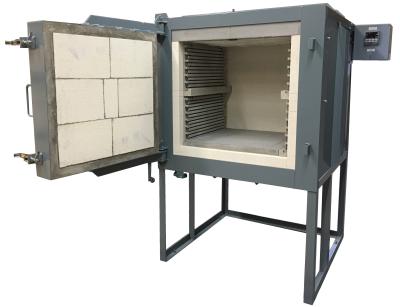 Lucifer Furnaces has designed a furnace to meet the heavy loads of a supplier of automotive safety equipment. Model DL7-R24, a box furnace with a chamber size of 24"H x 24"W x 24"L was customized to support a 1,000-lb. load of molds for heat treating at 750° F.
Starting with a reinforced angle iron steel frame with heavy gauge sheet steel facing welded to form a rigid unit, the furnace is lined with 6 ½" insulating firebrick and mineral wool block on side walls and below hearth. Ceramic fiber pyroblock modules line the roof.
Coiled wire heating elements in easy-to-replace holders are located on both side walls as stacked arrays. A special 1½"-thick hearth plate was designed to sit atop heavy-duty piers to support the load, protect the floor insulation and provide a flat working surface.
Safety features onboard include an auto-disengage feature to shut off power to heating elements when door is opened to eliminate electric shock hazard. Controls include Honeywell DC2500 microprocessor based digital time-proportioning temperature controller programmed with a single setpoint heat ramp.
The furnace, part of Lucifer's series 7000 general-purpose box furnaces, will be used for annealing steel and stress steel relief of die cast tool.
Related Glossary Terms
annealing


annealing

Softening a metal by heating it to and holding it at a controlled temperature, then cooling it at a controlled rate. Also performed to produce simultaneously desired changes in other properties or in the microstructure. The purposes of such changes include improvement of machinability, facilitation of cold work, improvement of mechanical or electrical properties and increase in stability of dimensions. Types of annealing include blue, black, box, bright, full, intermediate, isothermal, quench and recrystallization.

flat ( screw flat)


flat ( screw flat)

Flat surface machined into the shank of a cutting tool for enhanced holding of the tool.

relief


relief

Space provided behind the cutting edges to prevent rubbing. Sometimes called primary relief. Secondary relief provides additional space behind primary relief. Relief on end teeth is axial relief; relief on side teeth is peripheral relief.