January 13, 2013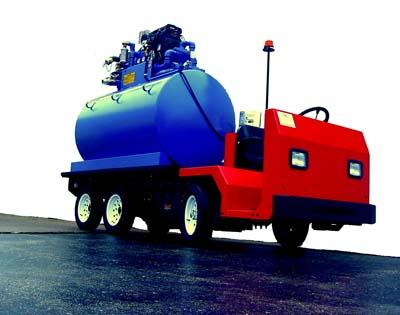 CECOR introduces the Extra Power Combination Coolant Sump cleaner/Dispenser, Model CP50-200/200CB5, for coolant recycling programs in larger metal machining operations. Tank consists of two compartments; one 200-gallon for collecting and filtering dirty coolant and another 200-gallon for dispensing clean coolant.
The sump cleaner sucks up machine tool sump contents down to the bare metal in minutes. The pump is powered by a Kohler 20 HP, 4 stroke cycle Command Series engine with electric start. Sumpcleaner pumps fluid at rates to 110 gallons per minute and generates suction to 13" Hg (177" water). On the way to the tank, the dirty coolant passes through the filter which separates the chips and swarf from the coolant. The F23 Filter has capacity to hold 2.3 cubic feet of solids. Sump can be refilled with fresh coolant from the dispenser side. Both tanks have pump-in, pump-out capability.
The CP50 complements a plant recycling program by filtering solids from the coolant and transporting coolant between the machine tool and batch processing areas. Unit is mounted on an electric, 48 volt Columbia Par Car Truck for easy mobility. Battery Transport Truck in not only efficient, but environmentally friendly and suitable for indoor use.
Related Glossary Terms
coolant


coolant

Fluid that reduces temperature buildup at the tool/workpiece interface during machining. Normally takes the form of a liquid such as soluble or chemical mixtures (semisynthetic, synthetic) but can be pressurized air or other gas. Because of water's ability to absorb great quantities of heat, it is widely used as a coolant and vehicle for various cutting compounds, with the water-to-compound ratio varying with the machining task. See cutting fluid; semisynthetic cutting fluid; soluble-oil cutting fluid; synthetic cutting fluid.

swarf


swarf

Metal fines and grinding wheel particles generated during grinding.