July 01, 2015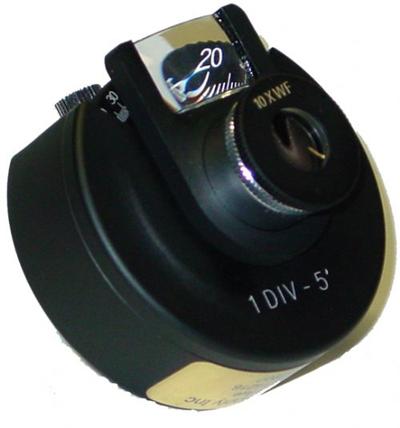 Titan Tool Supply Inc. announces the latest advancement in its modular tool microscope system with the introduction of the new model AME-5M angle measuring goniometer eyepiece. The AME-5M measures over 360° to an accuracy of 5' (minutes) by the use of a rotary Vernier and crosshair eyepiece. It features an easy-to-read white scale on a black background and can be enlarged by a 10X magnifier. It is ideal for checking cutting tool geometry and angular measurement, Titan Tool states.
An optimal use for the new AME-5M eyepiece is in conjunction with the Titan Tool modular tool microscope system, according to the company. The modular concept enables the user to attain magnifications from 3X to 800X using a choice of three body styles, three mounting brackets, two illuminators, and two video adapters. All images are optically correct, Titan Tool states, and parts may be used individually or assembled together to create an inexpensive measuring microscope.
Three basic microscope frames (straight in-line, 90° and 45°) are offered with variable magnifications from 10X and 20X at 7.97 inches working distance to 800X. Three different rack-and-pinion mounting fixtures feature X-Y-Z adjustments. Two styles of illuminators, including a cold light, fiber optic ring model that eliminates shadows and blind spots are available. In addition, either of the two video adapters can be used to allow convenient viewing of the image on a video monitor.
The company says that these sturdy, well-designed components permit the user to build a microscope-video system as simple or sophisticated as needed. The toolscope building block concept allows complete alignment capabilities for many fixturing adaptations such as alignment of electrodes to the workpiece for welding, alignment of grinding and slicing wheels, alignment of fiber optic systems to each other, and in micro-electronics for assembly and alignment on grinders. A system can handle work pieces up to 7 inches in length.
Related Glossary Terms
grinding


grinding

Machining operation in which material is removed from the workpiece by a powered abrasive wheel, stone, belt, paste, sheet, compound, slurry, etc. Takes various forms: surface grinding (creates flat and/or squared surfaces); cylindrical grinding (for external cylindrical and tapered shapes, fillets, undercuts, etc.); centerless grinding; chamfering; thread and form grinding; tool and cutter grinding; offhand grinding; lapping and polishing (grinding with extremely fine grits to create ultrasmooth surfaces); honing; and disc grinding.