February 02, 2016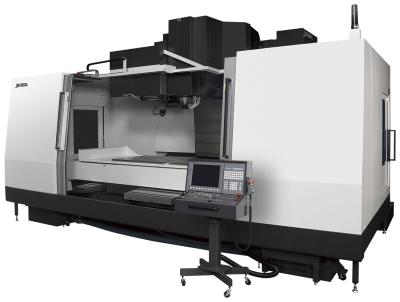 The MILLAC VII Series of vertical machining centers from Okuma America Corp., Charlotte, N.C., represents the pinnacle of large VMCs with high rigidity, heavy cutting ability and high operability, according to a Jan. 29 company news release. The VMC series is said to feature a strong base column construction with optimally placed ribs to counter chatter and twisting during heavy-duty cutting. In addition, traditional box ways are used for all axes to provide high accuracy and rigidity over the long term.
With the use of variable speed gear head and large-diameter spindle bearings, these vertical machining centers can perform heavy-duty cutting and high speed machining with high torque from low to high speeds, according to Okuma. The X, Y and Z travels and large table designed to withstand heavy loads are said to be well-suited for machining large, heavy work pieces.
The MILLAC VII Series includes a diverse lineup for a variety of machining needs: 561, 611, 761, 852, and 1052 models.
Features of the MILLAC VII Series include:
Highly rigid, slide guideway structure,
Variable speed gear head,
Large diameter spindle bearings,
Heavy-duty cutting,
Thermo-Friendly Concept Intelligent Technology, and
OSP-P300 open architecture control.
Related Glossary Terms
centers


centers

Cone-shaped pins that support a workpiece by one or two ends during machining. The centers fit into holes drilled in the workpiece ends. Centers that turn with the workpiece are called "live" centers; those that do not are called "dead" centers.

chatter


chatter

Condition of vibration involving the machine, workpiece and cutting tool. Once this condition arises, it is often self-sustaining until the problem is corrected. Chatter can be identified when lines or grooves appear at regular intervals in the workpiece. These lines or grooves are caused by the teeth of the cutter as they vibrate in and out of the workpiece and their spacing depends on the frequency of vibration.