December 12, 2018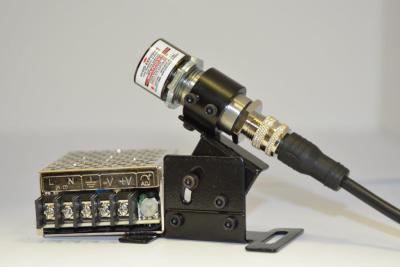 BEA Lasers introduces two new additions to its MIL Series of Laser Diode Modules for alignment applications. Both new MIL RA Alignment Modules feature a low-profile 3/8" rugged laser housing, fitted with a M12 connector. A PVC jacketed cable 2 meters long, integrated power supply and optional mounting bracket complete this sturdy ready-to-use system. The optional mounting bracket is available in sensor style, or as a multi-adjustable "LB" bracket. The modules can be obtained in straight or right-angle configuration.
The MIL RA Series Laser Diode System is available in standard 520nm (green) or 635nm (Red), with 1mW or 5mW output. Other outputs are available upon request.
The MIL RA Series includes a rugged right-angle alignment system. The Alignment Modules feature a 3/8" brass, nickel-plated laser housing. This Laser Diode Module occupies only 1.5" of space, allowing it to fit in tight spaces, which is a much smaller profile than other alignment lasers intended for industrial use.
The MIL RA Series Laser Modules are typically used for alignment and leveling applications. They are suitable for counting, machine vision, edge detection, paper web, riveting and waterjet cutting alignment, to name just a few.
Stock is immediately available. Inventory can be shipped within 24 hours. BEA Lasers will also provide custom modifications, which take an additional 4 weeks lead time. Customizations include laser pattern options (lines, crosses, dot patterns, etc.), flash options, other outputs and more.
All models are FDA compliant.
Related Glossary Terms
flash


flash

Thin web or film of metal on a casting that occurs at die partings and around air vents and movable cores. This excess metal is due to necessary working and operating clearances in a die. Flash also is the excess material squeezed out of the cavity as a compression mold closes or as pressure is applied to the cavity.

waterjet cutting


waterjet cutting

Fine, high-pressure (up to 50,000 psi or greater), high-velocity jet of water directed by a small nozzle to cut material. Velocity of the stream can exceed twice the speed of sound. Nozzle opening ranges from between 0.004" to 0.016" (0.l0mm to 0.41mm), producing a very narrow kerf. See AWJ, abrasive waterjet.

web


web

On a rotating tool, the portion of the tool body that joins the lands. Web is thicker at the shank end, relative to the point end, providing maximum torsional strength.