June 06, 2018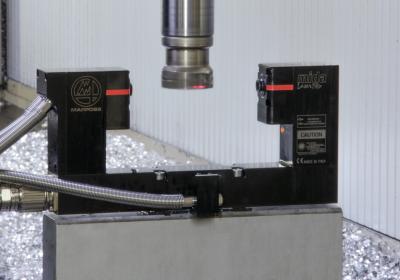 Marposs has announced the availability of its Mida Laser 75P Hybrid tool setter that combines a noncontact laser and touch probe in one system. While the laser enables measurement and checks on high-speed rotating tools, the laterally mounted touch probe monitors nonrotating, lathe tools.
The incorporated Mida A90 touch probe is available with three to five tool contact surfaces and one or more LEDs to visually detect the electrical contact between the tool and the probe.
Typical uses of the Mida Laser 75P Hybrid include tool identification, tool breakage detection, presetting of unknown tools, tool dynamic length and diameter measurement, tool wear compensation, tool cutting edge profile integrity verification and machine axis thermal drift compensation. Suited for unmanned operations, the unit presets tools in the machine and updates tool table data automatically. All of this helps to reduce machine downtime and scrap, increasing productivity and production quality.
The Mida Laser 75P Hybrid features an efficient, three stage shutter group that protects the system from dirt. When not performing measurements, the shutter is mechanically closed to prevent dirt from reaching the emitter and receiver lens while during the measurement cycle, a patented Air Tunnel Effect enables the measurement and verification of tool dimension, wear and breakage, even in the presence of coolant. A microprocessor, integrated into the unit's electronic interface, elaborates the signal received, filtering noise coming from coolant and chips.
The Mida Laser 75P system is available with a "collimated" or "focused" laser beam. The focused model is essential for cutting edge integrity verification and length measurements of chisel or rounded nose tools, or for tools with a diameter of less than 1 mm.
Related Glossary Terms
coolant


coolant

Fluid that reduces temperature buildup at the tool/workpiece interface during machining. Normally takes the form of a liquid such as soluble or chemical mixtures (semisynthetic, synthetic) but can be pressurized air or other gas. Because of water's ability to absorb great quantities of heat, it is widely used as a coolant and vehicle for various cutting compounds, with the water-to-compound ratio varying with the machining task. See cutting fluid; semisynthetic cutting fluid; soluble-oil cutting fluid; synthetic cutting fluid.

lathe


lathe

Turning machine capable of sawing, milling, grinding, gear-cutting, drilling, reaming, boring, threading, facing, chamfering, grooving, knurling, spinning, parting, necking, taper-cutting, and cam- and eccentric-cutting, as well as step- and straight-turning. Comes in a variety of forms, ranging from manual to semiautomatic to fully automatic, with major types being engine lathes, turning and contouring lathes, turret lathes and numerical-control lathes. The engine lathe consists of a headstock and spindle, tailstock, bed, carriage (complete with apron) and cross slides. Features include gear- (speed) and feed-selector levers, toolpost, compound rest, lead screw and reversing lead screw, threading dial and rapid-traverse lever. Special lathe types include through-the-spindle, camshaft and crankshaft, brake drum and rotor, spinning and gun-barrel machines. Toolroom and bench lathes are used for precision work; the former for tool-and-die work and similar tasks, the latter for small workpieces (instruments, watches), normally without a power feed. Models are typically designated according to their "swing," or the largest-diameter workpiece that can be rotated; bed length, or the distance between centers; and horsepower generated. See turning machine.