June 01, 2011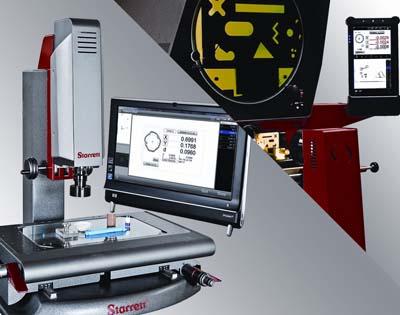 The L.S. Starrett Co. announced its benchtop optical systems are now available with the MetLogix M2 Touchscreen Control, and that The Company's EZ manual vision systems can be equipped with MetLogix M3 Touchscreen Control. The M2 and M3 icon-based touchscreen interface give users the ability to display graphic-rich measurement data. They utilize a Windows 7-based operating system to enable flexible data export and interface with Windows applications.
A Starrett optical projector with an M2 display gives manufacturers a state-of-the-art, intuitive and exceptionally accurate measurement system. It has a broad range of powerful, easy-to-use functions on a compact, icon-based touchscreen interface. The M2 provides instant information on feature form, tolerances and measurement data. It also can coordinate display for X and Y axes and Q radius values for screen rotation. The M2 mounts and displays in either a vertical or horizontal position.
Offering greater functionality than the M2, the video-based M3 is multi-touch software that can pan and zoom with the touch of a finger. It works with active part views and live video feeds as well as a conventional mouse interface. The M3's custom "Eye Measure" probe captures complex edges generated by a finger path drawn on the touchscreen. It also has "Measure Logic" probe intelligence to provide instant feature determination and measurement with a single touch. Along with a host of other features, the M3 offers simple machine/camera calibration with popular video measurement system correction methods.
"MetLogix M2 and M3 control interfaces give our optical comparator and EZ manual vision systems customers powerful, user-friendly ways to capture, display and report part measurement data," said Mark Arenal, managing director of the Starrett Kinemetric Division. "Starrett's new touchscreen readout and control interfaces visually guide operators through part measurement and reporting."
Related Glossary Terms
calibration


calibration

Checking measuring instruments and devices against a master set to ensure that, over time, they have remained dimensionally stable and nominally accurate.