September 19, 2017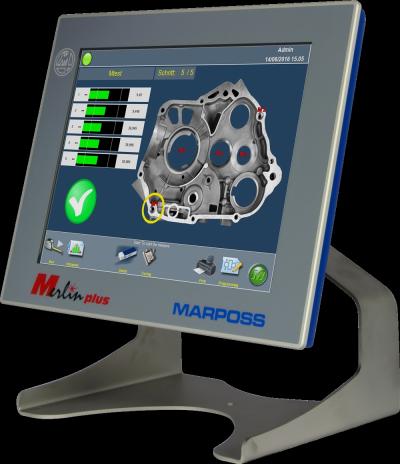 Marposs Corp. has introduced an updated version of its Merlin Plus embedded gauge computer, now with six USB and two ethernet ports enabling connectivity to multiple data collection devices and the ability to measure up to 250 characteristics. Additionally, the new version features a wider (12") true flat LCD screen capable of customized page display, a more robust design and multiple capability enhancements.
The Merlin Plus gauge computer captures data from external devices for simple measuring applications and basic statistical analysis. The new version has added digital displacement, mini-probes, lever probes, block gauges, flexures and DIOM modules to its capability. It is also now able to collect data from any Marposs USB measuring tool in addition to RS232 or Bluetooth wireless technology devices, such as the iWave2 handheld gauge, which the Merlin Plus can remotely activate, enabling measurements to be created with an auto switch. Additionally, data can be collected from third-part serial devices.
Data can be segregated by machine or product batches and stored internally or on removable USB memory devices or remotely through Ethernet LAN. Information is conveyed through attractive graphic displays (histograms, control charts, etc.) and numeric summaries stored as DFQ, CSV or Sesame.
The Merlin gauge software utilizes the Microsoft Windows operating system, providing a friendly and easy to use interface. Its touch-screen designed human interface allows programming and measurement acquisition without any additional input/command device. Its embedded architecture avoids wear and tear from rotating media, making Merlin a robust, reliable, maintenance-free system, according to the company.
The Merlin Plus features an Intel J1900 Quad Core 2.0 Ghz microprocessor, 2 GB RAM, and 32 GB memory. Automatic backups can be scheduled on a daily, weekly or monthly basis.
Related Glossary Terms
flat ( screw flat)


flat ( screw flat)

Flat surface machined into the shank of a cutting tool for enhanced holding of the tool.